brazil c&c production
Brazil and Petrobras show something in common with US LTO: even with a lot of debt and desire, and a strong resource base it is difficult to raise production in the face of high decline rates. It may also be a lesson for the world as oil prices rise and activity picks up; it is by far the most active conventional oil region with many major projects at various stages of completion, but facing delays and schedule crowding so oil production has continued a slow decline, contrary to expectations from last year. In July new production again did not quite match overall decline, mostly because of delays in start-ups of FPSOs planned for this year, and at 2575 kbpd was down 14 kbpd or 0.5% m-o-m and 48 kbpd or 1.8% y-o-y (data from ANP).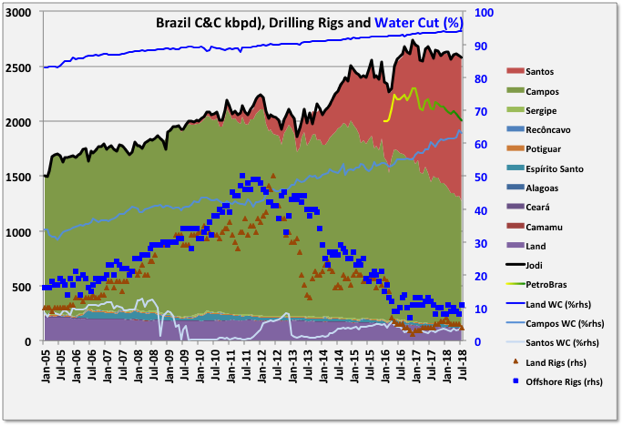 Two FPSOs were started in 2017: Lula Extension Sul (P-66) at 150 kbpd nameplate and Pioneiro de Libra, an extended well test project on the Mero field, at 50 kbpd. Both are now about at design throughput. Two other FPSOs completed ramp up in 2017. In 2018 three FPSOs have started up: Atlanta a small early production system at 20 kbpd, Bezios-1 (P-74) in the Santos basin at 150 kbpd and FPSO Cidade de Campos dos Goytacazes on the Tartaruga Verde field in Campos, also at 150 kbpd. There were three other FPSOs due for the Buzios field (P-75, 76 and 77) but at least one is delayed till next year. There are now four planned FPSOs remaining to be started up this year, all in the fourth quarter: P-75 and P-76 plus P-67 (Lula Norte) and P-69 (Lula Extremo Sul) in the Lula field (each 150 kbpd nameplate).
…click on the above link to read the rest of the article…