mexico c&c production
Mexico oil production is in decline though, at the moment, not as steep as it was expected to be (at least by me – IEA predictions are closer).
Data is through June and comes from Pemex and National Hydrocarbons Information Center (CNIH)(both sites are pretty good).
For June C&C was 1870 kbpd, down 25 kbpd from May and 170 kbpd y-o-y. Yearly decline rates for each region are shown in the chart below. Production peaked in 2004/2005 at just over 3500 kbpd, so overall decline is approaching 50%.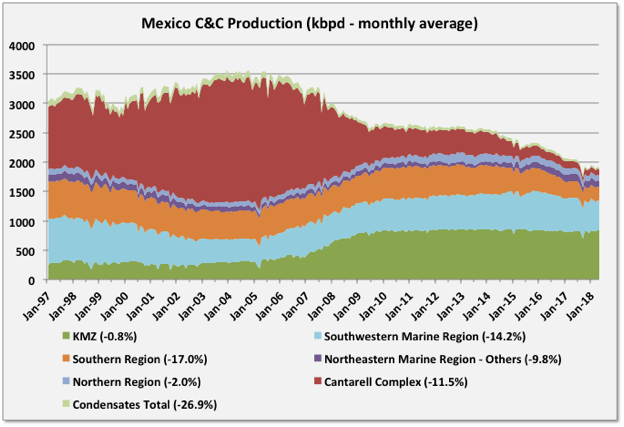 Most of the decline has been in light oil and condensate, with heavy oil holding fairly level.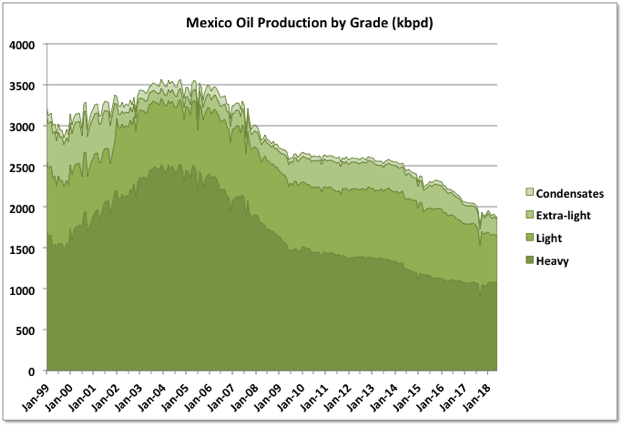 ku-maloob-zaap
The largest producer is the Ku-Maloob-Zaap complex (KMZ), which has been kept on a plateau, contrary to predictions of a decline starting about now from a Pemex presentation in 2012. The production has been maintained mainly by increasing flow from the Maloob field, and it looks like this has resulted in increased nitrogen production. Ku and Zaap production has been maintained, but the Ku field is getting close to exhaustion now. Ku is a medium oil at API 22°, while Maloob and Zaap produce heavy oil at API 12°. The two types of oil are processed separately so it's not clear that decline in Ku can be fully replaced by the heavier oil fields, which I think also require more nitrogen for voidage replacement. Nitrogen injection to maintain production there was started in 2014, which was also when overall production came off a temporary plateau and started the current steady decline period. It would be interesting to know how the total available nitrogen is apportioned to the fields; presumably the total available is fixed and therefore so too is the net voidage replacement capacity and hence the total amount of heavy oil that can be produced.
…click on the above link to read the rest of the article…