I'm shedding a different light on consumer debt.
This type of chart is trotted out constantly these days to show that American households are in fabulous shape when it comes to their ability to service their blistering record debts. The red line in the chart shows household debt-service payments (combined monthly payments on mortgages, credit cards, auto loans, and student loans) as a percent of disposable (after-tax) income. Since 1980, the ratio has ranged from 9.9% to 13.2%. It hit that top in Q4 2007 just before it all came apart. Ten years later, it was at 10.3%. Hence the conclusion that households won't have any trouble servicing their record debts. In a moment, we'll get to the trap in this conclusion.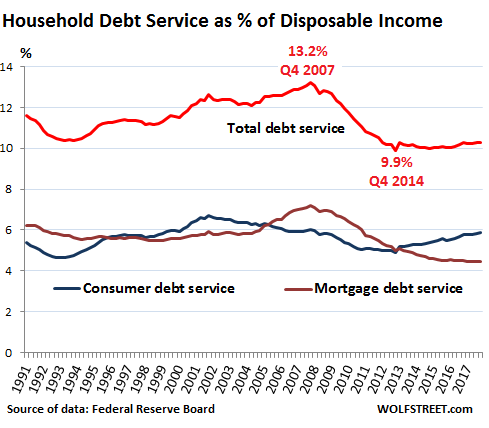 The chart above also shows separately the mortgage-debt-to-disposable-income ratio (brown line) and the non-housing consumer-debt-to-disposable-income ratio (blue line). Both combined make up the red line.
These debt-service ratios are a function mostly of three factors: The dollar amount of the debt; the interest rate on that debt; and the amount of disposable income. The logic is that rising disposable income supports rising indebtedness.
The large decline of the debt-service ratio from the peak of 13.2% in Q4 2007 to the all-time low in the data of 9.9% in Q4 2012 was caused by several factors:
Consumers "deleveraged" mostly by shedding their debts via defaults and bankruptcies.
Homeownership dropped to lows not seen since the 1960s. As households became renters, their mortgage debts were eliminated.
Mortgage debt plunged by $1.2 trillion, or by 11.3%, from $10.6 trillion in 2007 to $9.4 trillion at the end of 2014. It has since risen to $10.1 trillion.
…click on the above link to read the rest of the article…