Even China is buying U.S. LNG.
In 2017, the US became a net exporter of natural gas for the first time. It started small in February, when the US exported 1 billion cubic feet more than it imported. By October, the last month for which data from the Energy Department's EIA is available, net exports surged to 45 billion cubic feet. For the first 10 months of 2017, the US exported 86 billion cubic feet more than it imported. And this is just the beginning.
Exports to Mexico via pipeline have been rising for years as more pipelines have entered service and as Mexican power generators are switching from burning oil that could be sold in the global markets to burning cheap US natural gas. The US imports no natural gas from Mexico.
Imports from and exports to Canada have both declined since 2007, with the US continuing to import more natural gas from Canada than it exports to Canada.
What is new is the surging export of liquefied natural gas (LNG) by sea to other parts of the world.
This chart shows net imports (imports minus exports) of US natural gas. Negative "net imports" (red) mean that the US exports more than it imports: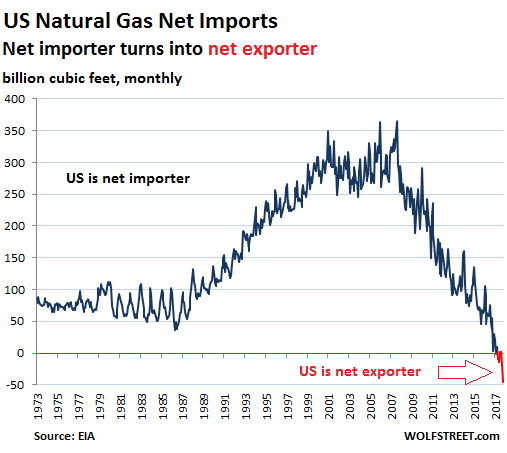 The first major LNG export terminal in the Lower 48 – Cheniere Energy's Sabine Pass terminal in Cameron Parish, Louisiana – began commercial deliveries in early 2016 when the liquefaction unit "Train 1" entered service. Trains 2 and 3 followed. The three trains have a capacity of just over 2 billion cubic feet per day (Bcf/d). In October 2017, the company announced that Train 4, with a capacity of 0.7 Bcf/d, was substantially completed and is likely to begin commercial deliveries in March 2018. Train 5 is under construction and is expected to be completed in August 2019. The company is now lining up contracts and financing for Train 6. All six trains combined will have a capacity of 4.2 Bcf/d.
…click on the above link to read the rest of the article…