Home » Posts tagged 'washington'
Tag Archives:
washington
With the 70th anniversary of the founding of the CPC looming, and Beijing staking out a more aggressive trade stance Friday morning by threatening retaliatory tariffs, the US picked the best – or worst – time to provoke Beijing, when a Navy ship sailed through the Taiwan Strait in the Navy's latest "freedom of navigation" operation, or 'freeop' on Friday.
As CNA points out, Washington has actually increased its antagonistic operations in the Taiwan Strait as tensions with Beijing have soared this year, and Friday's mission risks stoking tensions even further, as Beijing has warned international powers not to interfere in its relationship with Taiwan, or risk provoking Beijing's wrath.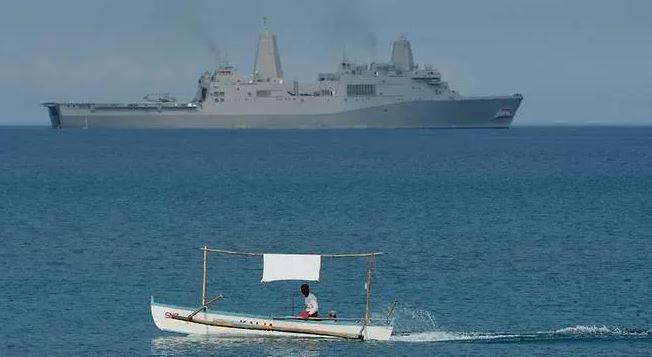 Yet interfering is precisely what the US has done, and earlier this month, Beijing denounced the sale of $2.2 billion in weapons to Taiwan by the US. Beijing has been ramping up pressure to assert its sovereignty over the island, which it considers a wayward province.
Commander Reann Mommsen, a spokeswoman for the US Navy's Seventh Fleet, said the operation in the 111-mile wide waterway separating Taiwan from China "demonstrates the US commitment to a free and open Indo-Pacific."
Mommsen identified the ship as the Green Bay, an amphibious transport dock ship, hinting at a possible marine transport to the controversial island. Typically, these missions are carried out using destroyer-class ships.
Taiwan's Defense Ministry said in a statement that the island's military had a full grasp of the situation in the Strait and closely monitored it.Washington has no formal ties with Taiwan, but the US is bound by law to help defend the island nation should it be attacked. The US is also its primary source of arms.
Writing on the Wall
Not Adding Up
One of the more disagreeable discrepancies of American life in the 21st century is the world according to Washington's economic bureaus and the world as it actually is. In short, things don't add up. What's more, the propaganda is so far off the mark, it is downright insulting.
Coming down from the mountain with the latest data tablet… [PT]
The Bureau of Labor Statistics (BLS) reports an unemployment rate of just 3.7 percent. The BLS also reports price inflation, as measured by the consumer price index (CPI), of 1.8 percent. Yet big city streets are lined with tents and panhandlers grumble "that's all" when you spare them a dollar.
In addition, good people of sound mind and honest intentions are racking up debt like never before. Mortgage debt recently topped $9.4 trillion. If you didn't know, this eclipses the 2008 high of $9.3 trillion that was notched at the precise moment the credit market melted down.
Total American household debt, which includes mortgages and student loans, is about $14 trillion – roughly $1 trillion higher than in 2008. Credit card debt, which is over $1 trillion, is also above the 2008 peak. To be clear, these debt levels are not signs of economic strength; rather, they are signs of impending disaster. Moreover, they're signs that American workers have been given a raw deal.
US CPI, "core" CPI and total consumer credit outstanding.
How is it that the economy has been growing for a full decade straight, but the average worker has seen no meaningful increase in his income? Have workers really been sprinting in place this entire time? How did they end up in this ridiculous situation?
US mortgage debt outstanding and real household wages (real hourly earnings of production and non-supervisory employees) [PT]
…click on the above link to read the rest of the article…
There is an eminently reasonable and feasible way to avoid conflict in the Persian Gulf, and to secure peace. The principles of multilateralism and international law must be adhered to. It seems almost astounding that one has to appeal for such obvious basic norms.
Fortunately, Russia has presented a roadmap for implementing a security concept in the vital waterway based on the above principles.
Russia's deputy envoy to the United Nations, Dmitry Polyansky, outlined a possible international coalition to provide security for commercial shipping through the strategically important Persian Gulf. The narrow outlet accounts for up to 30 per cent of all globally shipped oil on a daily basis. Virtually every nation has a stake in the safe passage of tankers. Any disruption would have huge negative consequences for the world economy, impacting all nations.
The Russian proposal, which has been submitted to the UN Security Council, is currently being considered by various parties. Crucially, the security concept put forward by Moscow relies on the participation of the Gulf nations, including Iran. Rather than being led by an outside power, the Russian proposal envisages a region-led effort.
This multilateral arrangement for cooperation between nations is solidly within the principles of the UN Charter and international law. Potentially, it can build trust and positive relations, and thereby reduce the climate of tensions and uncertainty which have intensified over recent months, primarily between the United States and Iran.
Washington has blamed Iran for several sabotage incidents on commercial shipping since June. The Americans have not provided any proof for their claims. Iran, for its part, denies any malfeasance and instead has pointed to "malign conspiracy"aimed at stoking tensions, or worse, precipitate an all-out military confrontation between the US and Iran. Significantly, too, the problem of alleged sabotage and danger to shipping followed the increased deployment of US forces in the region during May, ostensibly to counter anticipated "Iranian aggression".
…click on the above link to read the rest of the article…
U.S. Currency Wars With China—Past And Present
In a purely political move, the Trump administration (read: the U.S. Treasury) has branded China as a currency manipulator. This is an act of war. After President Trump announced that even more tariffs would be imposed on China, the markets took the value of the Chinese yuan down a notch or two. So, who was "manipulating" the yuan, Beijing or Washington? Well, it looks like Washington is engaging in yet another Asian currency war.
As it turns out, the United States has a long history of waging currency wars in Asia. We all know the sad case of Japan. The U.S. claimed that unfair Japanese trading practices were ballooning its bilateral trade deficit with Japan. To "correct" the so-called problem, the U.S. demanded that Japan adopt an ever-appreciating yen policy. The Japanese complied and the yen appreciated against the greenback from 360 in 1971 to 80 in 1995 (and 106, today). But, this didn't close the U.S. trade deficit with Japan. Indeed, Japan's contribution to the overall U.S. trade deficit reached almost 60% in 1991. And, if that wasn't enough, the yen's appreciation pushed Japan's economy into a deflationary quagmire.
Today, the U.S. is playing the same baseless blame game with China. And why not? After all, China's contribution to the overall U.S. trade deficit has surged to 47%.
America's recent declaration of economic war against China isn't the first time the U.S. has used currency as a weapon to destabilize the Middle Kingdom. In the early 1930s, China was still on the silver standard, and the United States was not. Accordingly, the Chinese yuan-U.S. dollar exchange rate was determined by the U.S. dollar price of silver.
During his first term, President Franklin D. Roosevelt delivered on his Chinese currency stabilization "plan." It was wrapped in the guise of doing something to help U.S. silver producers and, of course, the Chinese.
 …click on the above link to read the rest of the article…
For the first time since President Xi began his second term in 2017, China has released a defense white paper that doesn't elaborate on the country's military priorities so much as it criticizes Beijing's chief political adversary – the US – while defending the Communist Party's right to impose its rule over China's wayward provinces, including Hong Kong, which is still being rattled by protests, and Taiwan.
It's the latest sign that tensions between Beijing and Washington over the latter's support for Taiwan – Washington recently approved the sale of $2 billion in tanks and anti-aircraft missiles – might not only scupper trade talks, they could be the spark that ignites World War III. And what's more, it comes hours after the White House confirmed that the next round of in-person trade talks had been set for next week. Remember, Beijing has repeatedly threatened to use military force against any foreign power who interferes in its relationship with Taiwan, while Taiwan's leaders have insisted that they would never submit to Communist Party rule, Bloomberg reports.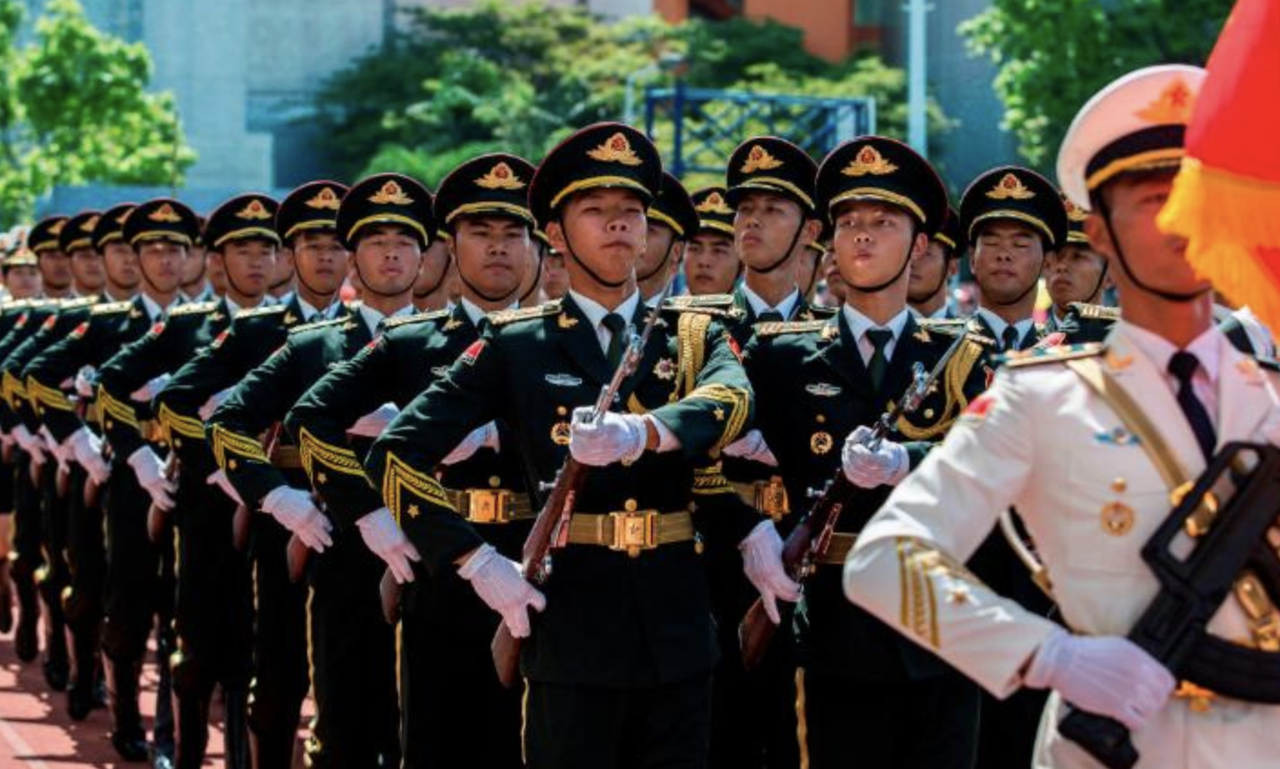 The paper, titled "China's National Defense in the New Era" – in a reference to a popular Xi slogan – accused the US of provoking competition among major countries, and noted that the "international security system and order are undermined by growing hegemonism, power politics, unilateralism and constant regional conflicts and wars."
 …click on the above link to read the rest of the article…"(The US) has provoked and intensified competition among major countries, significantly increased its defense expenditure, pushed for additional capacity in nuclear, outer space, cyber and missile defense," the paper said.
The white paper noted recent patrols by Chinese warships and warplanes around Taiwan, insisting that the operation was intended to send a "stern warning" to Taipei.
Some say it was Colonel Muammar Qaddafi, who wanted to dethrone the dollar, and so he paid for it with his own life. Others say it was Iraq's President Saddam Hussein, who wanted to make settlements in a currency other than the US dollar, and he was hanged. Now it is Russia and China, which want to do the same. Just days ago an agreement was signed to this effect. 
(i) Russia and China have decided to begin to make mutual settlements increasingly in their respective national currencies, and 
(ii) they have decided to bypass the SWIFT system, introducing their own instead.1)
Moscow has also revealed lately that Russia has stopped using the US dollar and the SWIFT system for settlements in arms trade.2)
The exchange of goods between Russia and China is significant; Russian weaponry has a lot of clients around the globe. On the other hand both countries, and especially China, have large dollar reserves. And both states are under attack from the West, be it economic sanctions against Moscow, be it American trade war against Beijing.
To administer punishment for such a daring act was a child's play in the case of Libya and Iraq: the two countries were swiftly dealt with. What can one do with a nuclear superpower on the other hand and Asia's largest economic tiger on the other?

If Washington has wanted to weaponize Moscow against Beijing or the other way round as it seems it has, then the strategists on the Potomac must swallow a bitter pillow. The hybrid war waged against Russia in Georgia, Ukraine, Moscow, the Baltic States, Poland as well as in Venezuela and Syria rather than weakening the target state have cemented its embrace with the Middle Kingdom.
…click on the above link to read the rest of the article…
Even more than Syria, Iran is now at the heart of the confrontation between East and West. The astounded public is witnessing Washington's daily about-turns in what seems – mistakenly – to be an escalation towards war between the two countries. But this is not what it is about. Fortunately, the two Great Powers have demonstrated for the last 75 years that they are reasonable, and have always managed to stand down before they arrive at the point of mutual destruction.
Tension is apparently rising between Washington and Teheran. As usual, President Trump is blowing hot and cold. Thus, on 21 June, he went as far as ordering the bombing of Iran, then changed his mind a few minutes before attacking his targets. And yet this behaviour, which has often allowed Donald Trump to win successes in the West, does not carry much weight with the Persian psychology [1]. But is he trying to impress Iran ?
The attitude of the North Americans must be understood from the point of view not only of their Middle Eastern policy, but also their global policy [2]. More than a conflict with Iran, it's the balance of power between East and West that is at stake.
 Since the Second World War, the central preoccupation of the United States has been their rivalry with the USSR, then Russia. Since the first Geneva Conference (June 2012), on the margins of the Syrian conflict, Moscow has proposed to be the guarantor of regional peace alongside and in equality with Washington. This recalibration of international relations was imagined under the auspices of the ex-Secretary General of UNO, Kofi Annan.
…click on the above link to read the rest of the article…
Washington's foreign policy towards Iran is driven by desperation rather than a reasoned understanding of a world in historically significant flux. That can lead only to a continuing succession of failures.
The kinetic events of the past week in Washington, Tehran, and the Persian Gulf were nothing if not revealing. President Donald Trump proved the keeper of the peace, warmongers all around him, when he aborted an airborne attack on Iran Thursday evening. The Iranians continue to act with admirable restraint in the face of incessant provocations.
More such provocations are sure to come. Trump announced over the weekend that he will impose yet another layer of "major new sanctions" against Iran on Monday. After a minor cyber-attack against an Iranian intelligence agency last week, the Pentagon has developed a list of Iranian entities it is considering for a more extensive cyber-war campaign.
Trump: New sanctions and more provocations to come. (The White House/Shealah Craighead)
But there are more fundamental truths to derive from the swift escalation of Washington's hostilities toward Tehran. They come to four. Taken together, they offer a snapshot of an imperial power in accelerating decline.
Paralyzed Elites
First, Trump's determination to avoid pointless new wars of adventure has divided Washington to an extent that is unprecedented at least as far back as the Vietnam debacle. In addition to hawkish factions within the administration and the national security apparatus, an apparent majority on Capitol Hill — liberals as well as Republicans — favors war as the principal instrument of American foreign policy in the Middle East.
…click on the above link to read the rest of the article…
Albright typifies the arrogance and hawkishness of Washington blob.
How to describe U.S. foreign policy over the last couple of decades? Disastrous comes to mind. Arrogant and murderous also seem appropriate.
Since 9/11, Washington has been extraordinarily active militarily—invading two nations, bombing and droning several others, deploying special operations forces in yet more countries, and applying sanctions against many. Tragically, the threat of Islamist violence and terrorism only have metastasized. Although Al Qaeda lost its effectiveness in directly plotting attacks, it continues to inspire national offshoots. Moreover, while losing its physical "caliphate" the Islamic State added further terrorism to its portfolio.
Three successive administrations have ever more deeply ensnared the United States in the Middle East. War with Iran appears to be frighteningly possible. Ever-wealthier allies are ever-more dependent on America. Russia is actively hostile to the United States and Europe. Washington and Beijing appear to be a collision course on far more than trade. Yet the current administration appears convinced that doing more of the same will achieve different results, the best definition of insanity.
Despite his sometimes abusive and incendiary rhetoric, the president has departed little from his predecessors' policies. For instance, American forces remain deployed in Afghanistan and Syria. Moreover, the Trump administration has increased its military and materiel deployments to Europe. Also, Washington has intensified economic sanctions on Cuba, Iran, North Korea, and Russia, and even penalized additional countries, namely Venezuela.
U.S. foreign policy suffers from systematic flaws in the thinking of the informal policy collective which former Obama aide Ben Rhodes dismissed as "The Blob." Perhaps no official better articulated The Blob's defective precepts than Madeleine Albright, United Nations ambassador and Secretary of State.
…click on the above link to read the rest of the article…
Whom the gods would destroy, Friedrich Nietzsche famously said, they first make mad. What would Nietzsche make of the current, truly mad US and NATO obsession with charging into the Black Sea? It is a useful thought to ponder.
The Black Sea was far outside NATO's traditional theater of operations for most of the Alliance's history. However, Brussels and Washington have been piling up their military assets and visibility in the region like bees at a honey pot – or like a rogue herd of elephants charging off the edge of a cliff.
Yet NATO's "In Your Face" presence in the Black Sea protects no one. On the contrary, it puts America's allies in the region at grave risk by escalating tensions and increasing the danger that full scale war could break out by deliberately manufactured incident (Just think the Gulf of Tonkin in 1964) and or through a random error or clash that escalates out of control.
The US/NATO forward presence in the Black Sea is strategic madness. And it replicates parallel incendiary US exercises in fake macho stupidity against Beijing in the South China Sea: A region from which the Chinese people suffered invasion and societal collapse on a genocidal scale following defeats by Britain and France in the First Opium War (1839-42) and by Imperial Japan in its terrible invasion of summer 1937.
Washington seems equally intent on opening up a third front against Iran with its parallel forward policy in the Persian Gulf and the Indian Ocean.
Three simultaneous wars against three major nations, two of which are the largest, most populous in the world and formidably nuclear armed? US grand strategy –insofar as there is one – seems to have national suicide as its only goal.
 …click on the above link to read the rest of the article…
The breakdown in the Sino-U.S. trade talks has led a number of commentatorsto suggest that America's "unipolar moment" of post-Cold War preeminence is over, as Washington lashes out against a rising China, whose economic rise threatens America's historic dominance. Direct military violence is highly unlikely, given the inherent fragility of high-tech civilization. We therefore may see Cold War–style conflict between the two superpowers, as relations in trade or national security matters become increasingly poisoned.
So what happens to the rest of us? Will a hitherto globalized world increasingly retreat into bifurcated competing blocs, much as occurred under the original Cold War? Or can the rest of the world develop a more muted and stable form of multilateralism?
After all, we are well past the point where parts of the globe are increasingly carved up via competing ideologies (e.g., capitalism vs. communism), given today's broad embrace of various permutations of capitalism, or divided via proxy wars, or the "great game" of colonial expansion. Today, most nations focus on maximizing the relative productivity of their own respective economies, as opposed to establishing their ideological bona fides as quasi-colonial client states for either the United States or the former Soviet Union. Another important dimension to recognize is that what we understand to be global or international is, for the most part, owned and controlled by industrialized countries: 93 percent of foreign-owned production is controlled by Organization for Economic Cooperation (OECD) economies. Even the historic tendency to focus on state power should be questioned in this moment. In 2016, 69 of the world's largest 100 economies were corporations, with their own range of interests and methods of functioning.
…click on the above link to read the rest of the article…
The Turkish Lira tumbled as much as 1% against the dollar, leading a decline across emerging markets…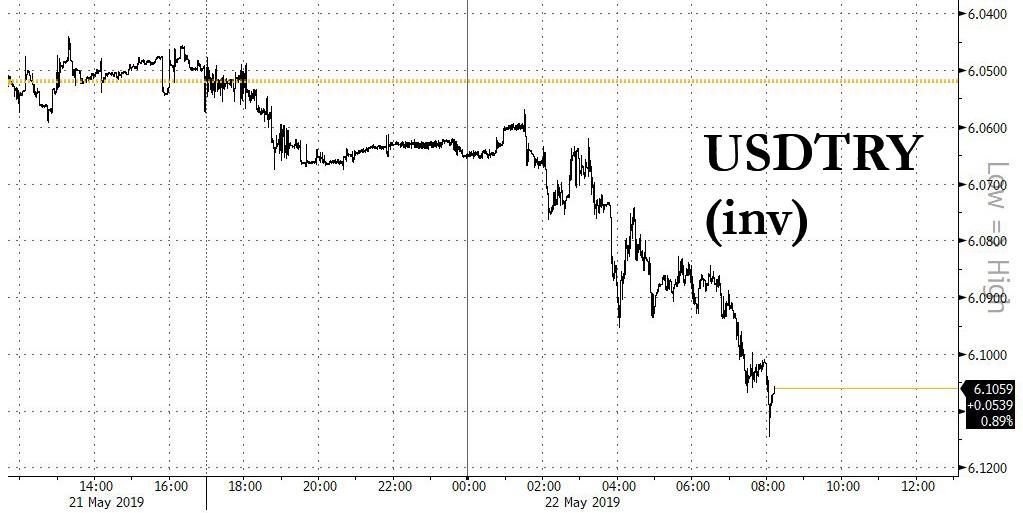 … while Turkish stock market losses accelerated as the Borsa Istanbul 100 Index falls 1.5%, declining for a 6th day and 13 of the past 14, to touch the lowest level since January 2017, effectively entering a bear market, having tumbled 20% from the March highs.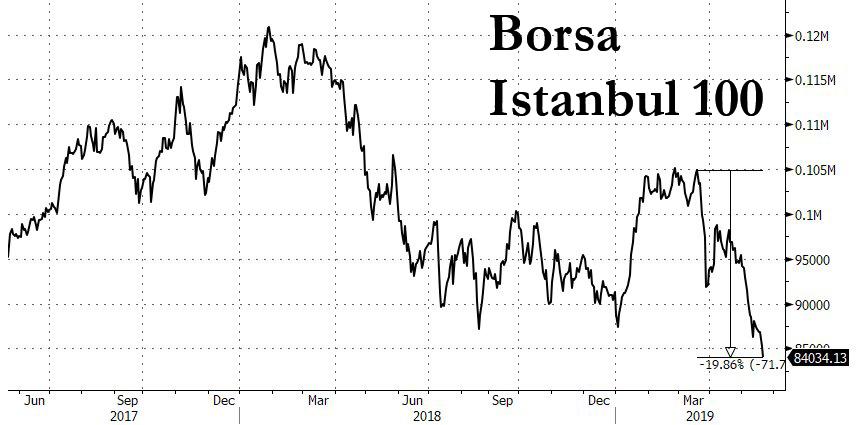 While there wasn't a specific event behind today's mauling of Turkey, which to many investors has become the canary in the emerging markets coalmine, the selling picked up after Turkey said soldiers had been dispatched for training in Russia ahead of the delivery of the S-400 missile-defense system. As Defense Minister Hulusi Akar said additionally, as the deadline of S-400 system delivery looms, Turkey will send more personnel for training in the coming months.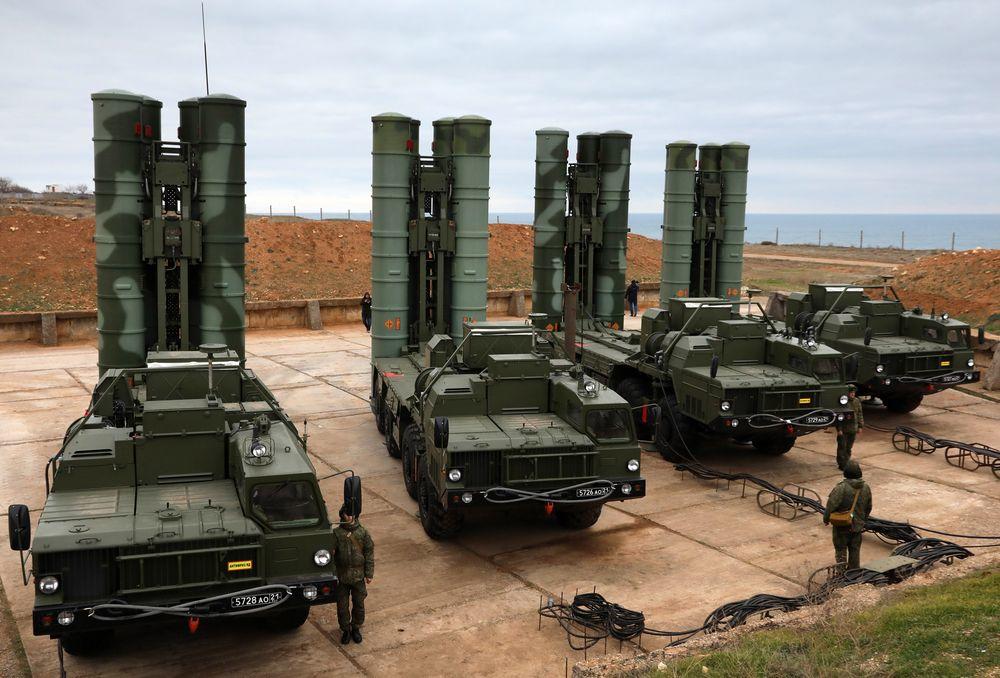 Meanwhile, the Kremlin on Wednesday condemned as unacceptable a US ultimatum delivered to Turkey meant to force Erdogan to cancel a deal to buy Russian S-400 surface-to-air missile systems and purchase U.S. Patriot missile systems instead. According to Reuters, Moscow was responding to a CNBC report which said Washington had given Turkey just over two weeks to scrap the Russian deal and do an arms deal with the United States instead or "risk severe penalties." More from CNBC:
Turkey has a little more than two weeks to decide whether to complete a complex arms deal with the U.S. or risk severe penalties by going through with an agreement to buy a missile system from Russia, according to multiple people familiar with the matter.

By the end of the first week of June, Turkey must cancel a multibillion-dollar deal with Russia and instead buy Raytheon's U.S.-made Patriot missile defense system — or face removal from Lockheed Martin's F-35 program, forfeiture of 100 promised F-35 jets, imposition of U.S. sanctions and potential blowback from NATO.
…click on the above link to read the rest of the article…
Venezuela's self-declared President Juan Guaido said on Saturday that he has instructed his political envoy in Washington to immediately open relations with the US military.
Guaido asked his ambassador, Carlos Vecchio, to sit down with Pentagon officials for "direct communications" to discuss "coordination" of efforts to remove Venezuelan President Nicolás Maduro, whose 2018 reelection Guaido claims is illegitimate.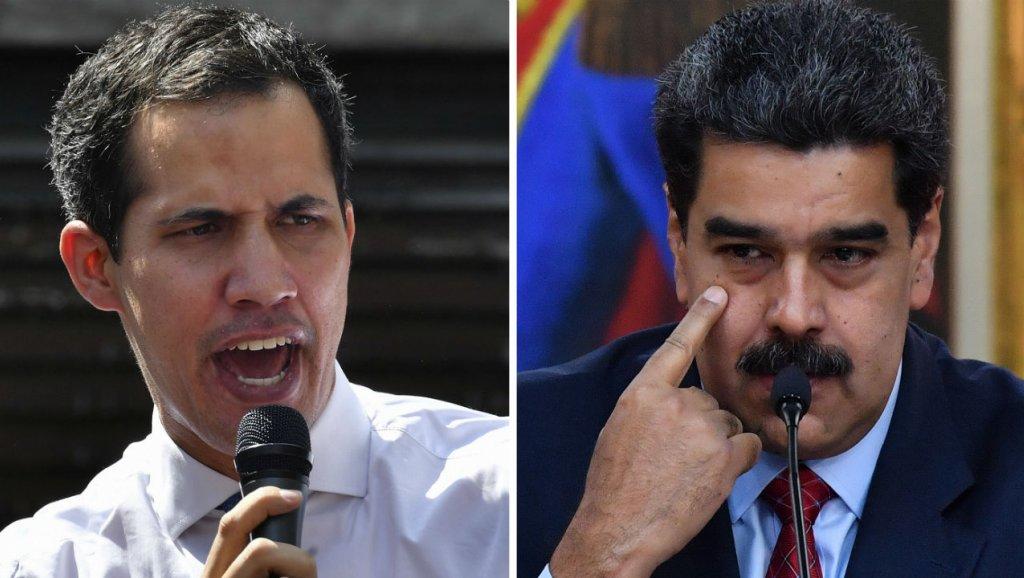 "We have instructed our ambassador to meet immediately … with the [US] Southern Command and its admiral to establish a direct relationship," Guaido told a Caracas crowd during a pro-opposition rally.
"We have said from the beginning that we will use all the resources at our disposal to build pressure."
The Southern Command is part of the US military responsible for operations and security in Central and South America, along with the Caribbean.

The Trump administration has repeatedly said that "all options are on the table" to end the country's yearslong political crisis. Washington, along with the European Union and most of Venezuela's neighbors, have backed Guaido to take control of the oil-rich nation.

However, Brussels and most Latin American countries have expressed opposition to potential military intervention. –DW
According to Venezuela's Foreign Minister Jorge Arreaza, the CIA is behind a plan to overthrow Maduro, according to Russia's state-owned Tass. Speaking at a Moscow press conference on Monday, Arreaza said "There is a whole plan made up by the CIA and the Venezuelan opposition to overthrow the Maduro government and take control of our country's natural resources, which belong to the people as a result of a socialist revolution," adding "This is what we are trying to prevent. We don't want the Venezuelan people to suffer"
…click on the above link to read the rest of the article…
Juan Guaido: I would like to be regarded as the interim president of Venezuela because the current president of Venezuela, Nicolas Maduro, stands opposed to the interests of the political bodies with which I have aligned myself. Also, he stands opposed to my own personal ambitions of becoming powerful.
Washington, DC: We too would like for Juan Guaido to be regarded as the interim president of Venezuela, because the current President of Venezuela is too cozy in policy and practice with our geopolitical opponents. We would not mind this so much if Venezuela didn't sit atop the world's largest proven oil reserves. If we can't control what happens to those oil reserves, we won't be as dominant on the world stage as we otherwise would be.
US allies: We too would like it if Juan Guaido were president instead of Nicolas Maduro, because that's what the United States wants and it is in our interests to go along with whatever they say. If we go along with Washington's dictates we are treated favorably, whereas if we don't we'll end up getting treated the way the Venezuelan government is being treated currently.
Donald Trump: I've been told by the neoconservatives who I have appointed to guide my foreign policy that it would be good for America's resource control agendas if I apply more sanctions to Venezuela's economy at this time. This will force the Venezuelan civilians, and more importantly their military, to overthrow Maduro or else see their loved ones die of malnutrition and lack of healthcare.
John Bolton: I too encourage Venezuela's citizens and military to turn against their government and begin inflicting violence upon it until Nicolas Maduro is either dead or removed from power.
…click on the above link to read the rest of the article…
As the US continues its increasingly daring and extremely provocative "freedom of navigation" operations in the Strait of Taiwan and South China Sea, it's also growing more vocal about challenging China's increasingly expansionary military presence in the Pacific. Over the weekend, the US has warned Beijing that the US military would aggressively respond to provocative acts by China's coast guard and fishing boats in the same way it reacts to the Chinese navy.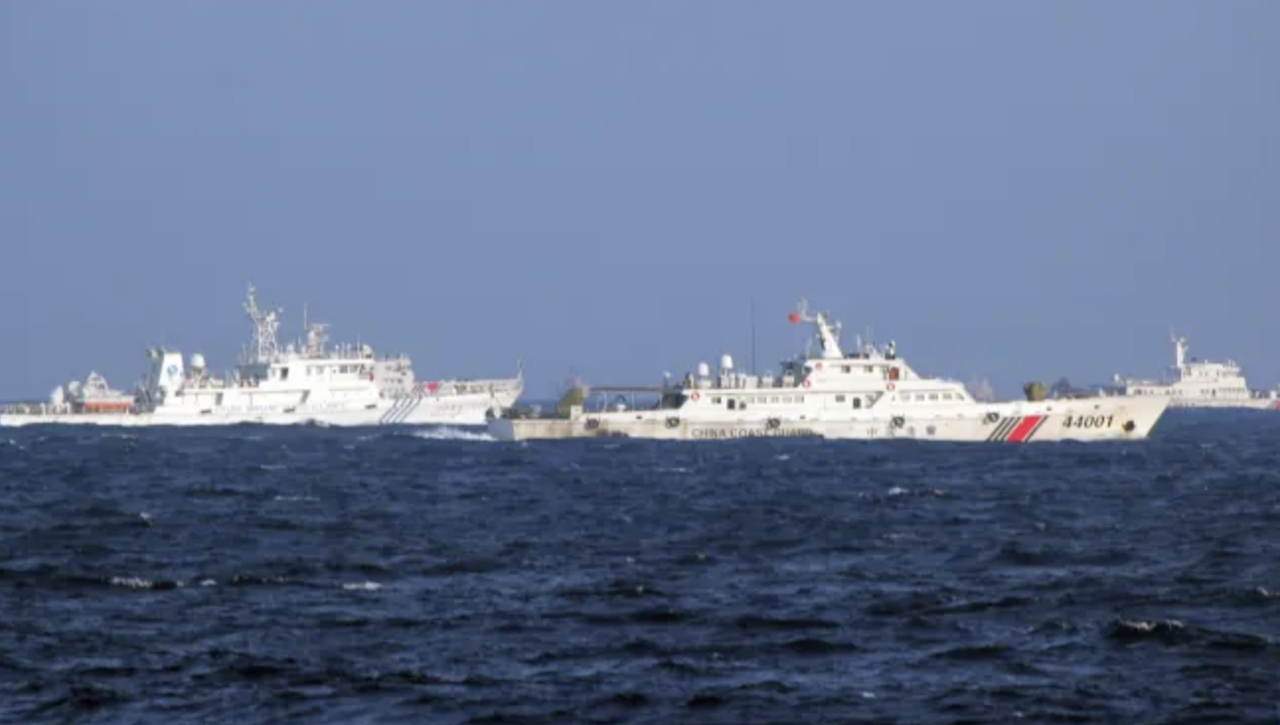 The threatening posture is aimed at curbing Beijing's increasingly sharp-elbowed approach not just to the South China Sea, which it already effectively dominates, despite the rival claims of several of its neighbors (claims that have been validated by international courts), but in the Pacific more broadly, the FT reports.
Admiral John Richardson, head of the US Navy, said he told his Chinese counterpart, vice-admiral Shen Jinlong, in January that Washington would not treat Chinese fishing boats that work with the People's Liberation Army-Navy any differently from actual Navy ships. This warning wasn't unprovoked: On several occasions, Chinese fishing boats have blocked vessels belonging to the US, Vietnam and the Philippines. They have even rammed and harassed ships, blocked access to lagoons, and participated in the seizure of reefs and shoals.
"I made it very clear that the US navy will not be coerced and will continue to conduct routine and lawful operations around the world, in order to protect the rights, freedoms and lawful uses of sea and airspace guaranteed to all," Adm Richardson told the Financial Times.
China's informal marine militia has been expanding since 2015, when it established a headquarters on the Paracel Islands.
…click on the above link to read the rest of the article…