Last week witnessed two major Ukrainian strikes on Russian ships at sea in merely two days, which resulted in severe damage to a warship (seen listing as it was towed to port), and damage to an oil tanker known to supply fuel to Russia's military in Syria.
This emerging "battle at sea" also comes as Russia has stepped up major assaults of Ukrainian ports, including on the Black Sea and in the Danube, across from NATO member Romania.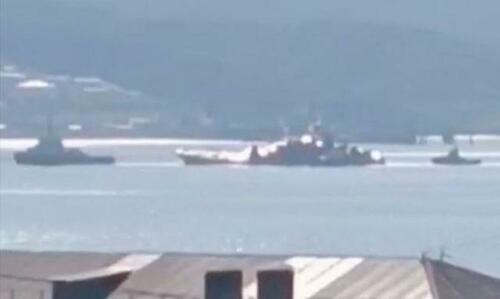 Kiev and Washington have accused President Vladimir Putin of 'weaponizing food' – while the Kremlin has blamed Ukraine and its NATO backers for making Black Sea transit routes dangerous, given the sea drone attacks and release of sea mines.
In new statements, President Volodymyr Zelensky has signaled there will be more attacks on Russian ships to come, which is likely to see the conflict slide further toward "unlimited war" – where any and all targets, including civilian, are taken out.
Zelensky said in a fresh interview with the Latin American publication La Nacion that Ukraine forces will turn the ongoing blockade of Ukrainian ports back on Russia.
"If Russia continues to dominate the Black Sea and block it with missiles, then Ukraine will do the same, which is a fair defense of our capabilities," he said. And significantly, he added:
"If they continue to shoot, we don't have many weapons, but if they continue to shoot, they may be left without ships until the end of the war. And this is what we want to show them."
"Therefore, Ukraine will definitely respond to any attacks on the civilian population and grain corridors," Zelensky emphasized.
…click on the above link to read the rest…