Lyndsey Antanitis is the Veteran Farmer Program Coordinator at the Rodale Institute, an independent research institute for organic farming. She is a farmer, healthcare professional, and veteran with a passion for helping others and providing opportunities within organic agriculture.
The Rodale Institute was founded in 1947 in Kutztown, PA by J.I. Rodale. Inspired by the nitrogen fertilizer shortages during World War II, Rodale wanted to develop practical methods of rebuilding soil fertility. Today, the institute focuses particularly on compost, soil health, weed and pest management, livestock operations, organic certification, wastewater treatment, and climate change. It is home to the longest running comparative study of organic and chemical agriculture, started in 1981.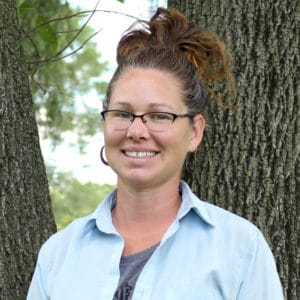 Antanitis served as a Cardiopulmonary Laboratory Technician with the rank of Staff Sergeant in the United States Air Force for five years and three deployments and was part of a Critical Care Air Transport Team. After leaving the military, she picked up farming, worked at Roots to River Farmand Tinicum CSA, and joined the Rodale Institute in 2016. She oversees interns and runs the Delaware Valley University Organic Farming Certificate Program and the Veteran Farmer Training Program.
Food Tank had the opportunity to talk to Lyndsey Antanitis about getting started as an organic farmer and how veterans can help farming while farming helps veterans.
Food Tank (FT): How did you get interested in organic agriculture?
Lyndsey Antanitis (LA): I've always been interested in organic agriculture; my mother was always making sure we ate healthy food growing up. I realized my passion for it when I was watching OMG-GMO, and people didn't seem to have any inkling of where their food came from, what was in it, how it was grown, etc.
…click on the above link to read the rest of the article…