Home » Posts tagged 'john vidal'
Tag Archives:
john vidal
The United States fears that Saudi Arabia, the world's largest crude oil exporter, may not have enough reserves to prevent oil prices escalating, confidential cables from its embassy in Riyadh show.
The cables, released by WikiLeaks, urge Washington to take seriously a warning from a senior Saudi government oil executive that the kingdom's crude oil reserves may have been overstated by as much as 300 billion barrels — nearly 40%.
The revelation comes as the oil price has soared in recent weeks to more than $100 a barrel on global demand and tensions in the Middle East. Many analysts expect that the Saudis and their OPEC cartel partners would pump more oil if rising prices threatened to choke off demand.
However, Sadad al-Husseini, a geologist and former head of exploration at the Saudi oil monopoly Aramco, met the US consul general in Riyadh in November 2007 and told the US diplomat that Aramco's 12.5 million barrel-a-day capacity, needed to keep a lid on prices, could not be reached.
Tapping the truth
According to the cables, which date between 2007-09, Husseini said Saudi Arabia might reach an output of 12 million barrels a day in 10 years but before then — possibly as early as 2012 — global oil production would have hit its highest point. This crunch point is known as "peak oil".
Husseini said that at that point Aramco would not be able to stop the rise of global oil prices because the Saudi energy industry had overstated its recoverable reserves to spur foreign investment. He argued that Aramco had badly underestimated the time needed to bring new oil on tap.
…click on the above link to read the rest of the article…
The race is on to develop new strategies for permanently storing some of the most dangerous materials on the planet.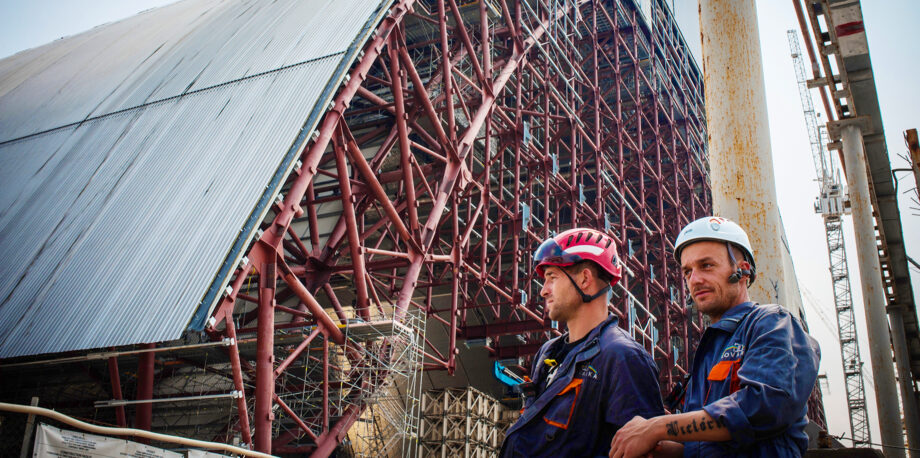 Photo of Chernobyl confinement structure © iStockphoto.com/E_Kryzhanivskyi
There's a small red hammer and sickle flag of the old Soviet Union on my dresser at home. I found it years ago on the floor of a primary school in Pripyat, the town built for workers at the doomed Chernobyl nuclear plant in what is now Ukraine. Perhaps it had been waved by a child at a state occasion, or had been left behind in the rush to evacuate Pripyat after the world's worst nuclear disaster in April 1986.
Less than 2 miles (3 kilometers) away, the stricken, crumbling Reactor No. 4 was one of the most dangerous places on Earth. Everything for miles around, from the mushrooms in the woods to the trucks left in the parking lots to the toys in the nursery and the hospital beds, was radioactive to some degree.
Even though a dosimeter showed that after being washed down, the little flag was barely more radioactive than normal background levels found in nature, it should have been packaged up and landfilled as low-level nuclear waste.
By contrast, Chernobyl's reactor No. 4 site will remain dangerous for tens of thousands of years. In July 2019, 33 years after the explosion, 200 metric tons (220 tons) of uranium, plutonium, liquid fuel and irradiated dust was finally encased below an enormous 36,000-metric-ton (40,000-ton), €1.5 billion steel and concrete structure taller than the Statue of Liberty. The new sarcophagus will last about 100 years — after which it will deteriorate and future generations will have to decide how to dismantle and store it permanently.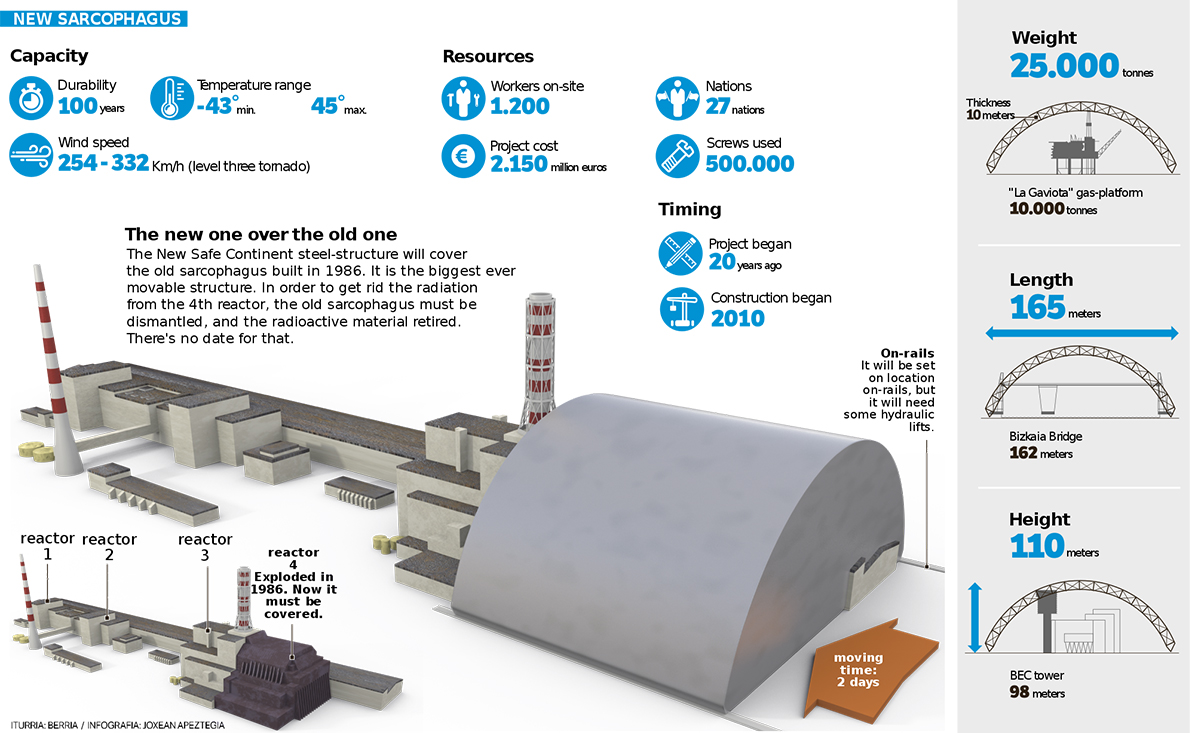 The new sarcophagus covering Chernobyl's reactor No. 4 is expected to remain functional for a century. Graphic courtesy of Berria from Wikimedia Commons, licensed under CC BY-SA 4.0. Click to enlarge.
 …click on the above link to read the rest of the article…