Watching for the EV drag on gasoline demand requires a lot of patience.
Gasoline consumption in the US during the four-week period through February 5 was down by 10.1% from a year ago to 7.89 million barrels per day (mb/d), according to EIA data. Gasoline consumption has been down in the range between 9% and 13% since mid-July, following the initial bounce-back from the collapse in March and April: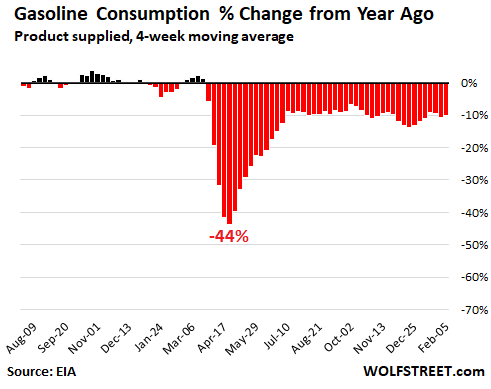 That Pandemic level of gasoline consumption below 8 mb/d was something that last occurred during the 1990s.
The effects of the pandemic – massive unemployment and working from home, partially balanced by driving instead of taking mass-transit and flying – are short-term factors that have hit gasoline demand, though they too may entail long-term shifts.
But there are also long-term structural demand issues: Peak consumption just before the Pandemic was just barely above the peak before the Financial Crisis 12 years earlier, with a big trough in between: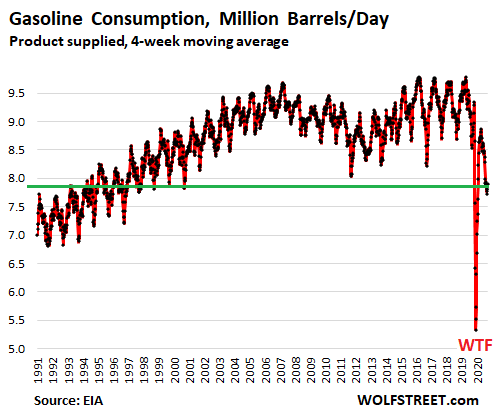 The EIA tracks consumption of fuel in terms of product supplied by refineries, blenders, etc., and not by retail sales at gas stations.
The structural demand issues become clearer when gasoline consumption is seen in light of population growth. On a per-capita basis, gasoline consumption peaked in 2004 at 477 gallons per person during the year, using Census Bureau population data. This includes gasoline consumption by commercial vehicles, such as delivery fleets, and by taxi and rideshare operations. By 2019, it had dropped by 8.8% to 435 gallons per person. Then in 2020, it plunged by another 13% due to the effects of the Pandemic, to 378 gallons per person, down 21% from the peak: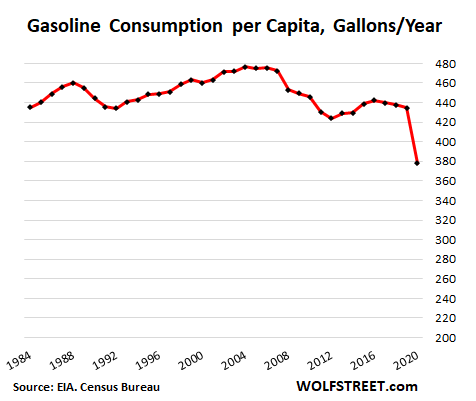 Watching for the EV drag on gasoline demand. Not yet visible.
…click on the above link to read the rest of the article…
wolf richter, wolfstreet, gasoline demand, jet fuel, diesel