Yellen was right to brush off "transitory" factors of "low" inflation.
Consumer prices, as measured by CPI for October, rose 2.0% year-over-year. A month ago, CPI increased 2.2%. The Fed's inflation target is 2%, but it doesn't use CPI, or even "Core CPI" – which excludes the volatile food and energy items. It uses "Core PCE," which usually runs lower than CPI, and if there were an accepted measure that shows even less inflation, it would use that. But it does look at CPI, and there was nothing in today's data to stop the Fed from raising its target rate in December.
The Core CPI rose 1.8%, up a tad from September's 1.7% increase. Core CPI has been above 2% for all of 2016 and through March 2017. In the history of the data going back to the 1960s, Core CPI had never experienced "deflation." But when Core CPI rates retreated in the spring through August, along with other inflation measures, a sort of panic broke out in the media: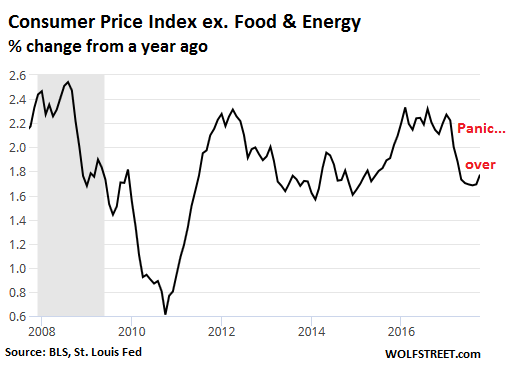 But the retreat was repeatedly brushed off as "transitory" by Fed Chair Janet Yellen and other Fed governors, starting in June, when they vowed to continue raising rates "gradually" and proceed with the QE unwind. Yellen had specifically pointed at a few of those "transitory" factors. These factors are now turning around. Core prices have re-accelerated their increases.
One of the "transitory" factors Yellen had pointed out specifically was telephone services, which includes the monthly costs that consumers pay for their smartphones and landlines. Those costs had plunged as a price war among wireless carriers broke out in 2016. This summer, the CPI for wireless services plunged as much as 13% year-over-year. Consumers loved it, but it couldn't last.