Stockholders and junior bondholders fear a "bail-in."
After its most tumultuous week since the bailout days of 2012, Spain's banking system is gripped by a climate of fear, uncertainty and distrust. Rather than allaying investor nerves, the shotgun bail-in and sale of Banco Popular to Santander on Tuesday has merely intensified them. For the first time since the Global Financial Crisis, shareholders and subordinate bondholders of a failing Spanish bank were not bailed out by taxpayers; they took risks in order to make a buck, and they bore the consequences. That's how it should be. But bank investors don't like not getting bailed out.
Now they're worrying it could happen again. As Popular's final days showed, once confidence and trust in a bank vanishes, it's almost impossible to restore them. The fear has now spread to Spain's eighth largest lender, Liberbank, a mini-Bankia that was spawned in 2011 from the forced marriage of three failed cajas(savings banks), Cajastur, Caja de Extremadura and Caja Cantabria.
This creature's shares were sold to the public in May 2013 at an IPO price of €0.40. By April 2014, they were trading above €2, a massive 400% gain. But by April 2015, shares started sinking. By May 2017, they were trading at around €1.20.
But since the bail-in of Popular, Liberbank's shares have seriously crashed as panicked investors fled. Scenting fresh blood, short sellers were piling in. On Friday alone, shares plunged another 17%. At one point, they were down 38% before bouncing at the close of trading, much of it driven by the bank's own share buybacks: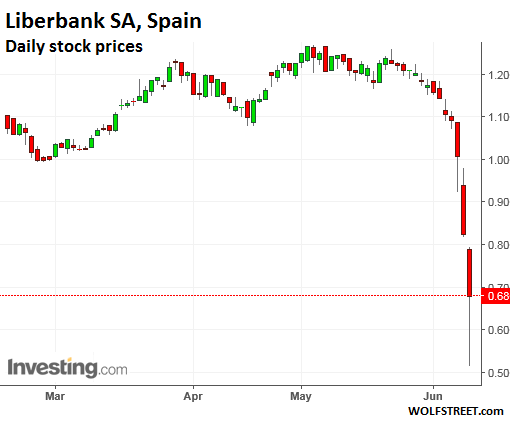 In the last three weeks a whole year's worth of steadily rising gains on the stock market have been completely wiped out. The main causes of concern are the bank's high risk profile and low coverage rate.
…click on the above link to read the rest of the article…