US bank stock index down 17% from January. EU bank stocks crushed, crushed, crushed since Financial Crisis.
Monday early afternoon, the US KBW Bank index, which tracks large US banks and serves as a benchmark for the banking sector, is down 2.5% at the moment. It has dropped 17% from its post-Financial Crisis high on January 29. If the index closes at this level, it would be the lowest close since September 18, 2017: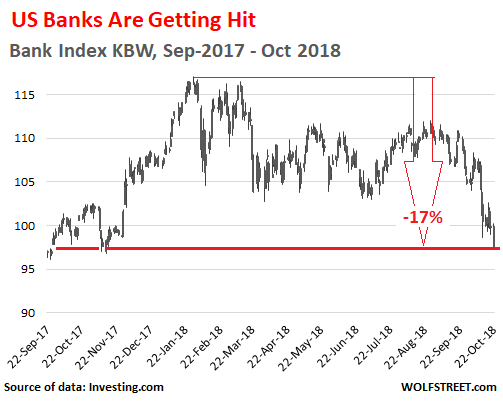 While that may be a nerve-wracking decline for those who have not experienced bank-stock declines, it comes after a huge surge that followed the collapse during the Financial Crisis: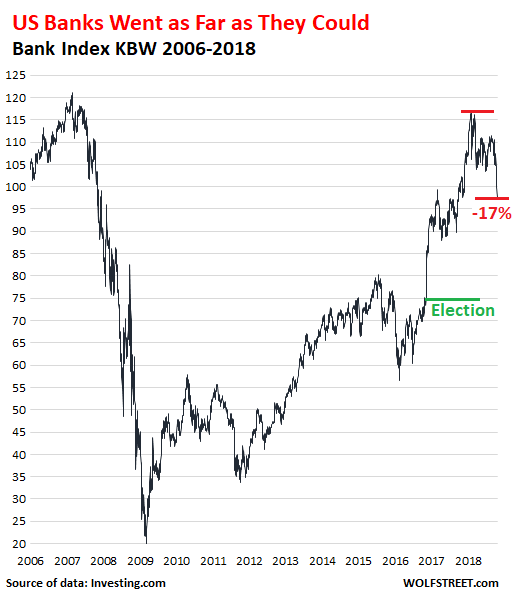 The second chart is on a different scale than the first chart above. So this year's decline is small fry compared to the movements since 2006, including the dizzying plunge toward zero in early 2009, and the subsequent boom when it became clear that the Fed would pull out all stops to save the banks with all kinds of mechanisms, including ruthless financial repression – forcing interest rates to 0% – that it waged on depositors and savers for a decade. Profits derived from these mechanisms effectively recapitalized the banks.
The 55% jump in bank stocks after the 2016 election through the peak in January 2018 was a reaction to promises for banking deregulation and tax cuts from the new Trump administration along with signs of lots of goodwill toward Wall Street, as top positions in the new administration were quickly being filled with Wall Street insiders. However, the "Trump bump" for banks is now being gradually unwound.
But unlike their American brethren, the European banks have remained stuck in the miserable Financial Crisis mire – a financial crisis that in Europe was followed by the Euro Debt Crisis. The Stoxx 600 bank index, which covers major European banks, including our hero Deutsche Bank, has plunged 27% since February 29, 2018, and is down 23% from a year ago: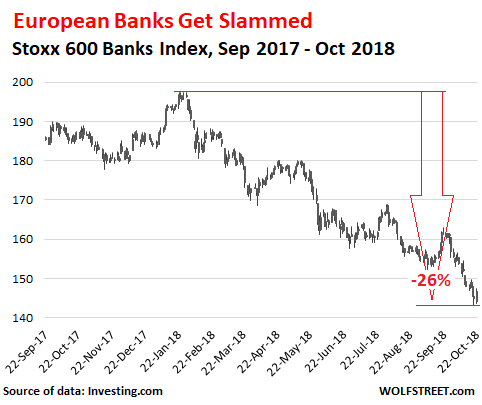 …click on the above link to read the rest of the article…