Global food prices increased the most in 1.5 years as trade disruptions from the El Nino weather phenomenon battered agricultural-producing countries, and Russia's exit from a crucial UN-backed agriculture deal stoked supply concerns.
The Food and Agriculture Organization of the United Nations (FAO) reported Friday that the global food index, which tracks monthly changes in the international prices of globally-traded food commodities, averaged 123.9 in July, up 1.3% from the previous month.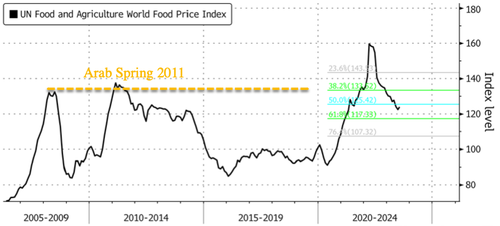 The FAO Food Price Index's July print was the largest monthly gain since March 2022.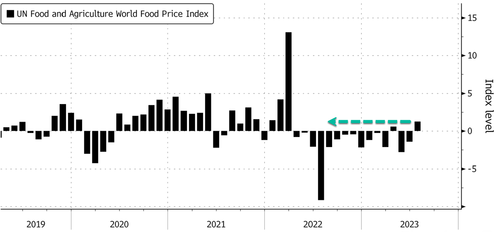 FAO explained the FAO Vegetable Oil Price subcomponent of the index was responsible for the monthly increase:
The increase was driven by a sharp jump in the FAO Vegetable Oil Price Index, which rose 12.1 percent from June after seven months of consecutive declines. International sunflower oil prices rebounded by more than 15 percent in the month, due mostly to renewed uncertainties surrounding the exportable supplies after the Russian Federation's decision to end implementation of the Black Sea Grain Initiative. World prices for palm, soy and rapeseed oils increased on concerns over output prospects in leading producing countries.
Also, the FAO All Rice Price Index increased 2.8% on the month and 19.7% on the year due to "India's 20 July prohibition of non-parboiled Indica exports fostered expectations of greater sales in other origins, amplifying upward pressure already exerted on prices by seasonally tighter supplies and Asian purchases," the report said.
This upward pressure on rice prices "raises substantial food security concerns for a large swathe of the world population, especially those that are most poor and who dedicate a larger share of their incomes to purchase food," FAO warned.
We noted in April and in early May, "El Nino Watch Initiated As Ag-Industry In Crosshairs" and "Global Rice Shortage Looms, Set To Be The Biggest In Decades" as a disruptive El Nino weather pattern wreaks havoc on the world's ag crops.
Rising food prices risk fueling social instability for the weakest emerging market economies.