Home » Posts tagged 'world food prices'
Tag Archives:
world food prices
Global food prices increased the most in 1.5 years as trade disruptions from the El Nino weather phenomenon battered agricultural-producing countries, and Russia's exit from a crucial UN-backed agriculture deal stoked supply concerns.
The Food and Agriculture Organization of the United Nations (FAO) reported Friday that the global food index, which tracks monthly changes in the international prices of globally-traded food commodities, averaged 123.9 in July, up 1.3% from the previous month.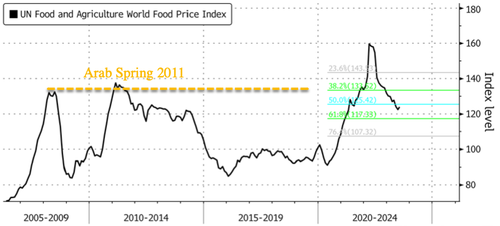 The FAO Food Price Index's July print was the largest monthly gain since March 2022.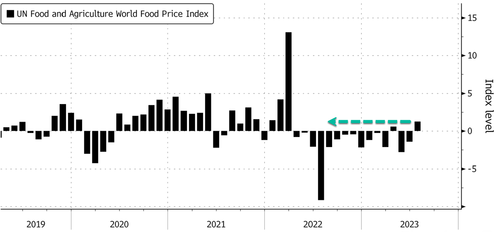 FAO explained the FAO Vegetable Oil Price subcomponent of the index was responsible for the monthly increase:
The increase was driven by a sharp jump in the FAO Vegetable Oil Price Index, which rose 12.1 percent from June after seven months of consecutive declines. International sunflower oil prices rebounded by more than 15 percent in the month, due mostly to renewed uncertainties surrounding the exportable supplies after the Russian Federation's decision to end implementation of the Black Sea Grain Initiative. World prices for palm, soy and rapeseed oils increased on concerns over output prospects in leading producing countries.
Also, the FAO All Rice Price Index increased 2.8% on the month and 19.7% on the year due to "India's 20 July prohibition of non-parboiled Indica exports fostered expectations of greater sales in other origins, amplifying upward pressure already exerted on prices by seasonally tighter supplies and Asian purchases," the report said.
This upward pressure on rice prices "raises substantial food security concerns for a large swathe of the world population, especially those that are most poor and who dedicate a larger share of their incomes to purchase food," FAO warned.
We noted in April and in early May, "El Nino Watch Initiated As Ag-Industry In Crosshairs" and "Global Rice Shortage Looms, Set To Be The Biggest In Decades" as a disruptive El Nino weather pattern wreaks havoc on the world's ag crops.
Rising food prices risk fueling social instability for the weakest emerging market economies.
Two months ago, we noted the first Arab Spring 2.0 incident when, as a result of soaring food, energy (and everything else) prices, thousands of angry Iraqis took to the street to protest. Needless to say, their complaints did not get much traction, and in the meantime food prices have only exploded to fresh record highs, far surpassing the levels hit in 2011 when riots against, you guessed it, food prices toppled most MENA political regimes (not without some CIA backing).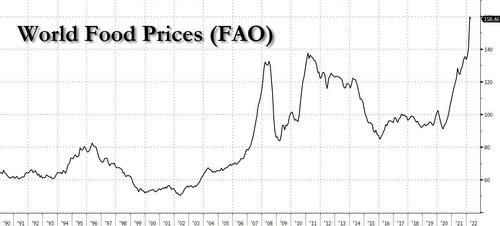 And as food prices keep rising, the protests across poor nations keep escalating, and on Thursday protests broke out in Iran leading to at least 22 arrests, after the government cut subsidies for food, sending prices through the roof as authorities braced for more unrest in the following weeks, Fox News reports.
In videos shared on social media, protesters can be seen marching through Dezful and Mahshahr in the southwestern province of Khezestan, chanting "Death to Khamenei! Death to Raisi!" referring to Iranian President Ebrahim Raisi has promised to create jobs, lift sanctions, and rescue the economy.
Iranian state media has not publicly addressed the protests, but they have been covered by the National Council of Resistance of Iran, an opposition group. Footage shared by the NCRI shows protesters setting fire to a Basij military base in Jooneghan, a city in the Central District of Jooneghan county.
"Every so often we see these types of protests in Iran. Each time it is under a different premise – the price of eggs, the price of gas, the price of bread, but the underlining message which is supported by the slogans heard throughout the demonstrations is the same; they are protesting the entirety of a brutal regime," Lisa Daftari, Iran expert and editor-in-chief of the Foreign Desk, said in a statement.
…click on the above link to read the rest of the article…