The spread between hard-red winter wheat and soft-red winter wheat has blown out to a record high as drought threatens crop yields across the Midwest and other major farming regions.
Hard-red winter wheat's premium over soft-red winter wheat is $1.72 a bushel in Chicago on Tuesday morning, surpassing the 2011 record.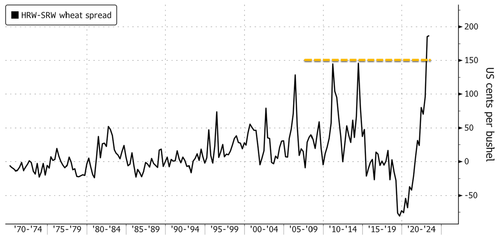 James Bolesworth, managing director at CRM AgriCommodities, told Bloomberg the widening spread is "a factor of the drought in the US Plains which is detrimentally impacting crop conditions."
The latest report from the US Department of Agriculture found Kansas (top producer) had only 19% of the acreage in good or excellent condition. Agritel analysts pointed out droughts are hitting crops in other states:
"A deterioration of the crop ratings is also visible in Texas and Colorado."
Simultaneously, drought conditions plague the Canadian Prairies. Farmers in the region are planting in some of the driest conditions in half a century. They need adequate moisture to plant wheat and canola crops, or this might lead to poor crop yields later in the growing season, which could impact global supplies.
"If there isn't good moisture, those tiny plants are quite susceptible to adverse conditions," said Bill Prybylski, a farmer and vice president at the Agricultural Producers Association of Saskatchewan. 
The possibility of lower US and Canadian wheat production because of persistent drought conditions could exacerbate global food supplies. Already, droughts in Argentina have reduced crop yields, and wartorn Ukraine has forced farmers to reduce plantings.
All of this means that global food inflation will likely remain elevated for the foreseeable future. How to hedge higher costs at the supermarket? Plant a garden.