A moisture conveyor belt of atmospheric rivers has unleashed near-record rainfall across the West Coast. Another, perhaps, more powerful atmospheric river and bomb cyclone are set to target California on Wednesday and Thursday, continuing ten days of heavy rains and snow for higher altitudes.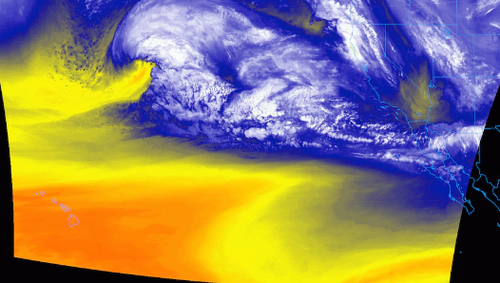 The National Weather Service office in the Bay Area warned about the imminent storm, calling it a "truly … brutal system … that needs to be taken seriously."
"To put it simply, this will likely be one of the most impactful systems on a widespread scale that this meteorologist has seen in a long while," an NWS meteorologist in San Francisco, adding, "the impacts will include widespread flooding, roads washing out, hillside collapsing, trees down (potentially full groves), widespread power outages, immediate disruption to commerce and the worst of all, likely loss of human life."
The developing atmospheric river formed near Hawaii and, by Wednesday morning, will spread tropical moisture into California by a low-pressure system. This weather phenomenon is known as the "Pineapple Express."
"Basically, an (atmospheric river) is a river in the sky of water vapor, and when it hits the mountains, (the moisture) is forced up over the mountains. 

 "That upward motion causes clouds and precipitation to form, and the faster the flow of air and water vapor is hitting the mountains, the faster the rain is falling, so you get more and more rain with the stronger ARs hitting the mountains," Marty Ralph, Director of the Center for Western Weather and Water Extremes, told FOX Weather. 
The heaviest rainbands are forecasted over parts of California Wednesday afternoon and evening into Thursday morning. NWS has already posted flood alerts across the Golden State.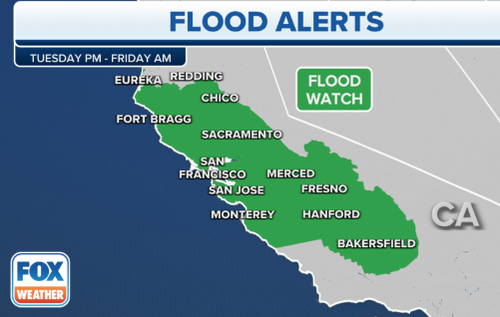 Another 2-3 inches could be expected across the San Francisco area. Even the Los Angeles metro area could see 1-3 inches.
…click on the above link to read the rest…