One month ago, weeks before the crypto sector was shaken by the crushing FTX bankrun which led to a quick and painful bankruptcy, and revealed that one of the world's biggest crypto exchanges and its "JPMorgan-esque" owner were nothing but hollow shells of fraud, another bank was suffering from a far bigger bank run.
Readers will recall that in mid-October we reported that the Fed was quietly wiring over increasingly greater amount of dollars to the Swiss National Bank – which eventually peaked at around $11 billion weekly – which in turn was then using these dollar swap lines to plug funding holes within one or more Swiss commercial banks.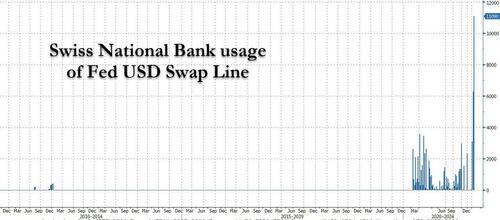 One didn't need to be a rocket surgeon to figure out that the bank in question was Credit Suisse, which had seen its stock tumble amid a relentless barrage of scandals, corporate mistakes and the occasional fraud (that we know of), and which we said was likely suffering from a painful behind-the-scenes bank run.
Fast forward one month, when this morning the 2nd largest Swiss bank confirmed our worst-case speculation, admitting that it had just gone through a staggering bank run in which clients pulled as much as 84 billion Swiss francs, or $88.3 billion, of their money from the bank during the first few weeks of the quarter, underlining ongoing concerns over the bank's restructuring efforts after years of scandals.
Of course, as FTX learned the hard way, bank runs don't have a happy ending, and the Zurich-based bank warned on Wednesday that it will face a loss of up to 1.5 billion Swiss francs ($1.6 billion) for the three final months of the year, in large part as a result of the decline in wealth and asset management client funds from the start of October to Nov. 11…
…click on the above link to read the rest…