While the US awaits with bated breath to see if there will be any diesel inventories after the midterm elections (see "Forget Oil, The Real Crisis Is Diesel Inventories: The US Has Just 25 Days Left"), other countries are already seeing gas stations run dry. Take Ho Chi Minh City, the city known as Vietnam's economic engine, whose gas stations are being forced to suspend operations due to shortages of the fuel.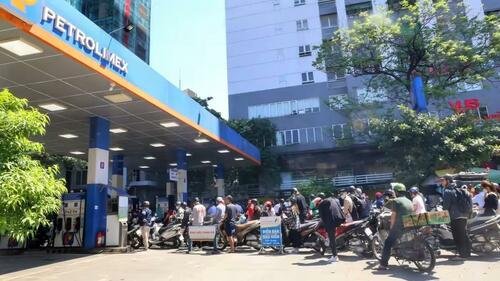 Believe it or not, it is possible to have an even worse government response to an energy crisis than that of the US democrats, and Vietnam is it: a tangle of reactions to a constrained petroleum market – including government price controls and distributors' decreasing profits – has worsened the country's gasoline shortage, increasing the burden on domestic refineries.
While these refineries are moving to increase gasoline production, it will take time for Vietnam to fully solve the fundamental problems behind its petroleum crisis according to Nikkei Asia.
The government in mid-October called on two refineries to boost output to the maximum extent possible in a bid to meet domestic demand. The government also asked distributors to speed deliveries to gas stations. PetroVietnam, the country's largest state-run oil company, responded by raising the operation rate of its Dung Quat refinery in the central province of Quang Ngai to 109% from 107%. A refinery executive said the rate can be pushed to 110% or even higher, should the government make further requests.
Oil refineries generally save some production capacity even when declaring they are running at 100%. When they crank up production during emergencies, their operation rate can surpass 100%…
…click on the above link to read the rest…