Much of the Ukrainian capital of Kiev is without electricity or water, after the latest round of major Russian airstrikes on Monday. The Russian military announced 'successful' strikes on multiple of the country's vital infrastructure facilities.
"The Russian Armed Forces continued to launch strikes with high-precision long-range air and sea-based weapons against Ukrainian military and energy facilities," the Defense Ministry said. "The goals of the strikes were successful. All assigned objects were hit." Meanwhile, Ukrainian Prime Minister Denys Shmyhal confirmed direct hits on 18 sites – most of which were connected to the nation's energy supply. These ramped up attacks have created a growing sense of panic with temperatures plunging and winter approaching.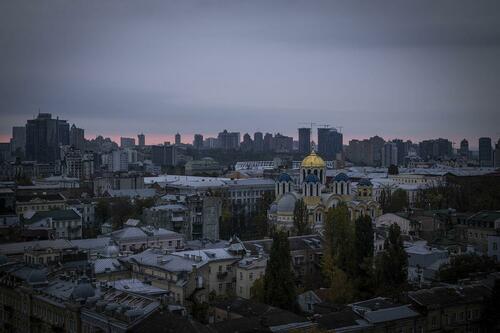 "Missiles and drones hit 10 regions, where 18 sites were damaged, most of them energy-related," Shmyhal stated on Telegram. "Hundreds of settlements in seven regions of Ukraine were cut off." Facilities in Cherkasy and Kirovohrad also came under attack. Ukraine's military said it intercepted projectiles over the Lviv region, which spared this western part of the country from damage.
The Washington Post noted there are "power outages continuing in the Kyiv, Zaporizhzhia, Dnipropetrovsk and Kharkiv regions," and others. The Post listed some of the below regions impacted by large-scale power outages and water supply disruptions:
Kyiv region: Russian strikes damaged buildings, and rescuers are searching for victims, the regional police said. Attacks left 80 percent of the capital without water and are likely to cause sustained power outages, Mayor Vitali Klitschko said.
Kharkiv: Two strikes hit critical infrastructure facilities in the eastern city, causing problems with the water supply and affecting the public transit network, the mayor said.
Zaporizhzhia region: An infrastructure facility was struck by rockets, the local governor said, prompting warnings from officials in the southern region that energy supplies there could also be affected.
…click on the above link to read the rest…