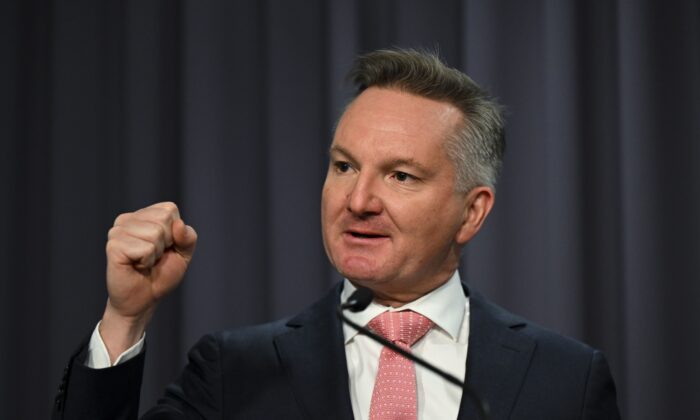 Energy Minister Chris Bowen has blamed Australia's current electricity shortage on a supposed lack of investment in renewable energy and storage facilities from the previous government.
The Labor minister was responding to questions on whether Australia should simply increase—or repair—coal-fired energy generators that already provide around 64.67 percent of the country's total electricity, as of December 2021.
"The problem is there hasn't been enough investment in renewable energy," Bowen told reporters on June 16. "There hasn't been enough investment in storage."
"Yes, you can say the wind doesn't always blow, and the sun doesn't always shine. Well, the rain doesn't always fall out there, but we managed to store the water," he said.
"We can store the renewable energy if we have the investment, and that investment has been lacking for the last decade. That's the problem."
Outside of coal, the National Electricity Market is supported (pdf) by wind power (10.45 percent of total generation), hydro (7.21 percent), individual solar systems (7.09 percent), gas (6.57 percent), and grid-scale solar (3.85 percent) among others.
Incidentally, Australia has been one of the fastest nations to adopt rooftop solar technology installing over 380,000 systems in 2021, with the Clean Energy Regulator saying the combined amount of electricity generated was 3,200 megawatts.
Further, experts have noted that simply building more batteries to increase storage capacity was unfeasible. One of the world's largest battery storage systems is FPL Manatee Energy Storage Center in Florida, which can power approximately 329,000 homes but for only a two hour period.
Another problem with increasing battery production would be an increased reliance on Chinese supply chains, which would be risky considering the willingness of the Chinese Communist Party to leverage trade relationships in geopolitical disputes.
…click on the above link to read the rest of the article…