Update (Friday): The locked-down megacity of Shanghai eased pandemic restrictions this week and will see public transportation networks reopen as soon as Sunday. After two months, the city of 26 million people appears to have contained the spread of COVID-19 via China's zero COVID policy.
Restarting Beijing could be problematic for the rest of the world. We laid this out Thursday. The city's lockdown and reduced port capacity created a massive backlog of products that need to be loaded on container ships and hauled westward.
Maersk and Goldman Sachs (in two separate reports) outlined the immediate restart of Beijing would create renewed global supply chain congestion.
We told readers to monitor trans-Pacific container freight rates closely as a proxy for China's restart.
New data from Fearnley Securities indicates container rates have finally rebounded after slumping for much of this year. This is an early indication that economic activity in Shanghai could be increasing as pandemic restrictions ease.
Fearnley's Peder Nicolai Jarlsby expects a surge in freight volumes as container rates increase. He added this would be a bullish development for shares of A.P. Møller – Maersk A/S, the world's largest container shipping company by capacity, and shipper Hapag-Lloyd.
Focusing on 40ft container freight rates on the Shanghai-Los Angeles shipping lane, prices have found higher lows and appear to be turning up after a 30% decline since peaking last September.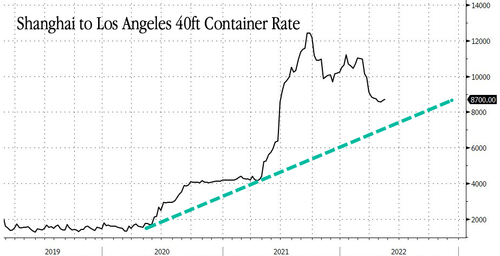 Goldman warned earlier this week: "We could see a resurgence of ship bottlenecks if sudden restarts in China lead to renewed sailings all at once."
And if that's the case, container rates for major shipping lines in the trans-Pacific region could increase more as shipping volumes surge. This would mean renewed supply chain congestion could hit US shores in late summer, perfect timing ahead of the US midterm elections.
…click on the above link to read the rest of the article…