In our preview of what was expected to be Australia's first rate hike since 2010, we said that consensus expects a 15bps rate hike to 0.25%, with a handful of bank still expecting a hold (including CBA, Goldman and HSBC) and nobody expected a greater than 15bps rate hike. Well, everyone was wrong, because a few hours ago, Australia's central bank – one of the developed world's last remaining doves turned hawkish – and joined the global tightening bandwagon when it increased interest rates by more than any economists anticipated, rocking markets with a bigger-than-expected interest-rate hike in the middle of an election campaign and signaled further hikes to come, sending the currency and bond yields higher, while stocks slumped.
Abandoned his pledge of just two months ago to remain patient, Reserve Bank Governor Philip Lowe topped economists estimates by raising the cash rate 25 basis points to 0.35%, defying expectations for a hike of 15 basis points. It was the first time borrowing costs had been lifted in an election campaign in almost 15 years. That move and suggestions that more hikes will follow sent benchmark three-year bond yields soaring through 3% for the first time in eight years.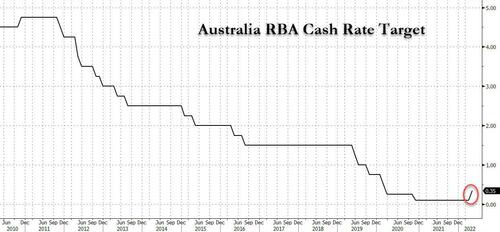 "The RBA managed to wrongfoot every forecaster and even the market — no one was braced for 25 basis points," said Sean Callow, a senior currency strategist at Westpac Banking Corp. Economists' consensus was for a 15 basis-point hike.
Pouring gasoline on the hawkish case, the RBA forecast for 2022 is that headline inflation will accelerate to about 6% and core inflation will rise to around 4.75%. The RBA targets inflation of 2-3%. In response to a question about why the RBA had previously guided against rate hikes, Lowe said that "Inflation has surprised everyone on the upside."
…click on the above link to read the rest of the article…