The global economy is in disarray as the war in Ukraine unleashed a commodity shock with increasing risks of stagflation. Adding to the turmoil is an outbreak of COVID-19 in China that may unleash another supply chain crisis.
News from China over the last day shows a new outbreak of the highly contagious omicron variant has infected more than 5,000 people, the most since the early days of the pandemic in early 2020. China's zero-tolerance approach has shuttered factories and placed some 51 million people into some form of lockdown.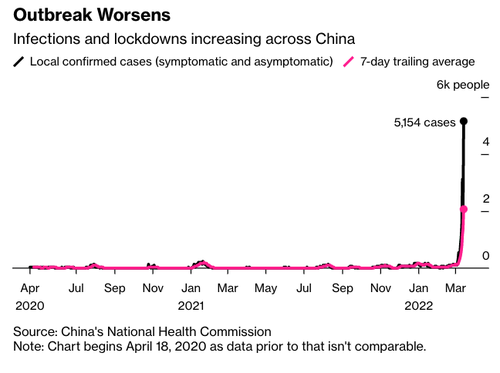 As of Tuesday, omicron variant infections have been reported in 21 provinces and municipalities nationwide, including the capital of Beijing. According to CNN, five cities are in lockdown, including Changchun, Jilin, Shenzhen, Dongguan, and Langfang.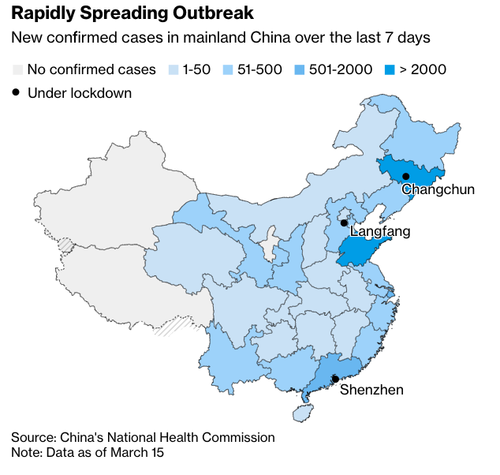 Lockdowns have forced factories to idle production and risk snarling production from Apple iPhones to Amazon Echo & Alexa devices to Toyota SUVs to smart television to all sorts of other electronic devices. Disruptions to exports may induce shortages and drive up inflation, just as the Federal Reserve embarks on hiking interest rates to control inflation at four-decade highs.
A Bank of America Corp. survey of fund managers published on Tuesday showed confidence in global growth this year is the lowest since July 2008, and stagflation expectations have jumped to a whopping 62% of respondents.
"You take all these little paper cuts and you start to add them up and you could be looking at a potential significant slowing of the global economy," said Jay Bryson, chief economist at Wells Fargo & Co.
China's zero-tolerance policy has reminded us that supply chains are still subjected to massive disruptions. The lockdowns couldn't come at a worse time, as spring tends to be one of the busiest shipping seasons of the year.
…click on the above link to read the rest of the article…