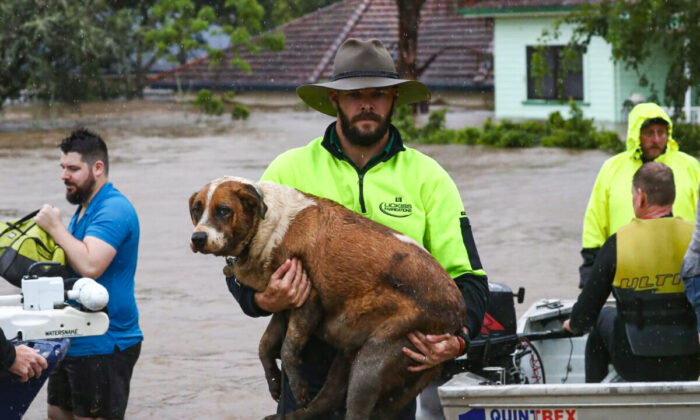 New South Wales (NSW) residents are bracing for unprecedented floods across the east coast, with thousands of residents under evacuation orders and entire suburbs underwater.
The flood-prone suburb of Lismore in northeastern NSW remains under water as the Wilsons River reached two metres above the record flood level from 1954, peaking at 14.4 metres (47 feet) at 3 p.m. on Monday.
NSW Police confirmed the first flood death in NSW and ninth death overall at 3 p.m. on Tuesday.
Hundreds are missing and at least more one is feared dead after he was lost in the floodwaters.
State Premier Dominic Perrottet has told residents the worst may be yet to come, with 26 evacuation orders affecting 40,000 people, as well as over 300,000 more people under evacuation warnings are in place.
"If an evacuation warning has been issued, please follow the instructions. If you can leave safely, please do so," he said. "Please do not wait. Please gather your belongings and please follow the instructions from the SES."
This comes as the Australian Bureau of Meterology has issued a warning for Australia's most iconic city, Sydney, to brace for flooding and severe winds with the weather system.
At present Perrotett has said emergency services have made over 1,000 flood rescues and received over 6,000 calls for assistance.
"I want to thank our SES volunteers and personnel, and the 550 working around the clock to get people to safety and importantly provide that care and support as we move through this difficult time," Perrottet said.
…click on the above link to read the rest of the article…