Star Tribune reports a vessel chartered by Cargill Inc., a Minnesota-based agribusiness giant, was hit in a missile attack after leaving a deep-sea port on the outskirts of Odessa on Thursday.
"Right now, our priority is the safety of our people in the region. This is a rapidly evolving situation with a great deal of uncertainty," said April Nelson, a Cargill spokeswoman, in an e-mail. "We are currently gathering information and assessing potential impacts to Cargill and our customers."
Cargill said that the crew was safe, and the vessel was rerouted to Romania to undergo a damage report.
Cargill has a majority stake at a port in the Odessa port, exporting grains and oils worldwide. The company didn't name the vessel.
Since the attack on Thursday, Cargill implemented contingency plans as Russia invades Ukraine for the second day. Its plan is to concentrate on guaranteeing its global customers' food supplies.
Ukraine and Russia account for 25% of global trade in wheat and 20% of corn sales. With port and railway closures in Ukraine, Bloomberg Agriculture Spot Index has risen to record highs.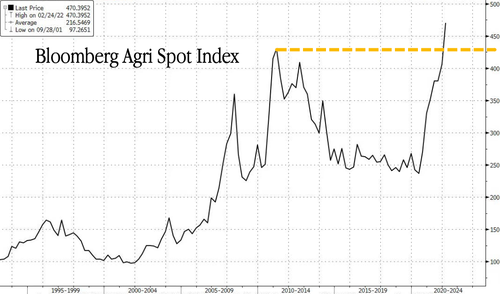 This will feed into food inflation as global food prices will jump to a record next month or sometime in the first half of this year.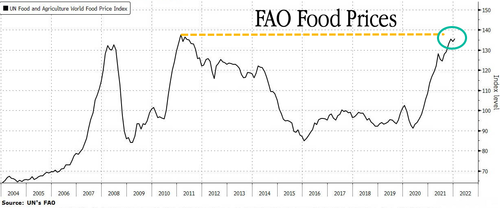 Food inflation plagues global consumers and is about to worsen as spot agricultural commodity prices soar to record highs amid new supply chain disruptions.