Facing nearly a dozen separate "Freedom Convoy"-inspired protests that seemed to be springing up faster than police and his government could disperse them, Canadian Prime Minister Justin Trudeau invoked a national emergency to implement sweeping police powers late Monday.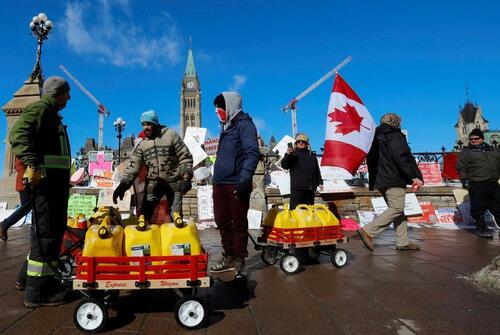 Yet, protesters and their supporters continued, as protesters in Ottawa "dug in", while new demonstrations sprung up in Alberta and Manitoba, but by Tuesday, Trudeau and his government had clearly had enough. They needed a new scapegoat. Enter, 13 "demonstrators" who were arrested purportedly due to their involvement with the Coutts blockade. Police claimed they seized "13 long guns and a large quantity of ammunition in an early-morning raid targeting three trailers that were part of a blockade".
Canada's Public Safety Minister, Marco Mendicino said as much during a press briefing on Tuesday.
"There have been those who have tried to characterize these illegal blockades [as being] about vaccines and mandates and fatigue with the pandemic. That is not what is driving this movement right now," Marco Mendicino, Canada's Public Safety Minister, said at a news conference Tuesday.

"What is driving this movement is a very small, organized group that is driven by an ideology to overthrow the government through whatever means they may wish to use," he said.
In what sounded like the preamble to another "Alex Jones" moment, some "national security experts" have asked the Canadian government to provide more "clarification."
Mendicino's comments led some national security experts to call on the government to provide clarification. "I do think that it behooves the government to explain themselves, to the extent that they can, while maintaining national security," said Leah West, a national security expert at Carleton University in Ottawa.
Just remember that the "threat of violence" is integral to Trudeau's argument for his national emergency order.
…click on the above link to read the rest of the article…