The production and release of plastics, pesticides, industrial compounds, antibiotics and other pollutants is now happening so fast and on such a large scale that it has exceeded the planetary boundary for chemical pollution, the safe limit for humanity, a new study claims.
We asked Patricia Villarrubia-Gómez, a PhD candidate at Stockholm University and one of the authors of the study, to explain what this means.
What are planetary boundaries?
In 2009, an international team of researchers identified nine planetary boundaries that maintain the remarkably stable state Earth has remained within for 10,000 years – since the dawn of civilisation.
These boundaries include greenhouse gas concentrations in the atmosphere, the ozone layer, an intact biosphere and freshwater. The researchers quantified the boundaries that influence Earth's stability and concluded in 2015 that human activity has breached four of them. Greenhouse gas emissions are pushing the global climate into a new, hotter state, species extinctions threaten the biosphere's integrity, the conversion of forests to farmland has degraded the quality of land and industrial and agricultural processes have radically altered natural cycles of phosphorus and nitrogen.
The researchers lacked the data to quantify the boundary for chemical pollution, otherwise known as novel entities (essentially, any substances made by humans plus natural elements like heavy metals which human activity mobilises or transports at high volumes), until now. Our research suggests we have crossed this boundary and beyond the known safe operating space for humanity.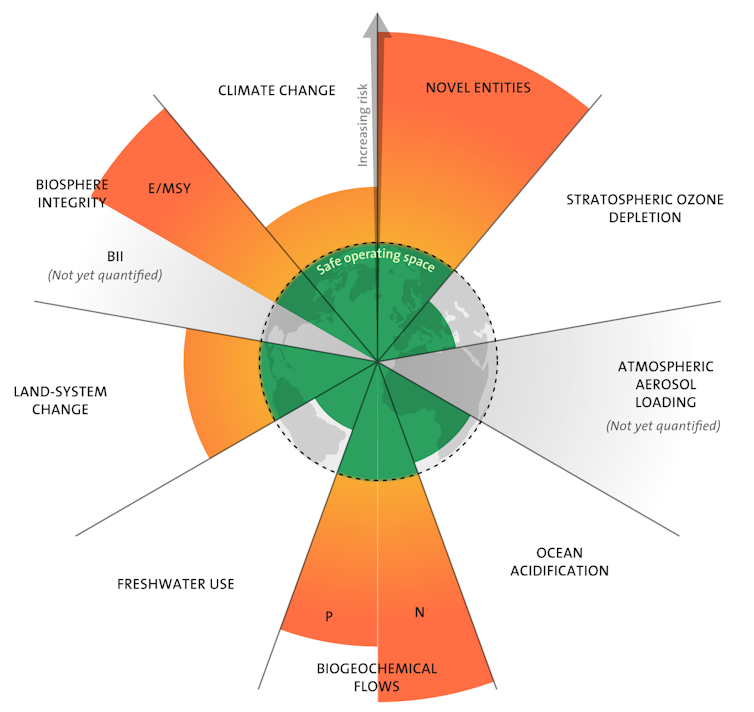 How did you discover this?
…click on the above link to read the rest of the article…