Despite the activist shareholder battles, calls for ESG changes and just outright negative press about fossil fuels, it looks like rumors of oil's death have been greatly exaggerated. Fossil fuels aren't dying – rather, their output is just being shifted to national and state owned companies.
Even as the supermajor oil companies shrink in size and adhere to incessant criticism, fossil-fuel demand holds strong, according to Yahoo Finance. Activists have been the busiest they have been in years…
Recent weeks saw Exxon and Chevron rebuked by their own shareholders over climate concerns, while Shell lost a lawsuit in the Hague over the pace of its shift away from oil and gas.
…and this has been a tailwind for national oil companies (NOCs) and state owned players who aren't under the same pressure to play ball with activists. The report notes that "Saudi Aramco and Abu Dhabi National Oil Co. are spending billions to boost their respective output capacities", as is Qatar Petroleum.
NOC's share of global oil output is expected to rise to 65%, from about 50% today, by 2050. Companies like Exxon and Chevron are keeping output at lows and curtailing future investment in traditional oil and gas infrastructure.
Patrick Heller, an adviser at the Natural Resource Governance Institute, told Yahoo Finance: "We hear government officials and NOC officials say, 'We look at the divestment of international oil companies from some projects as an opportunity for us to grow. And I do think that's potentially really risky."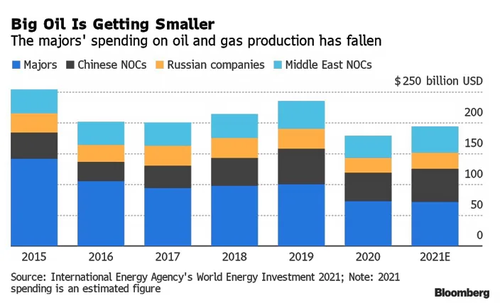 Jason Bordoff, director of the Center on Global Energy Policy at Columbia University's School of International and Public Affairs, thinks that the shift to government owners could wind up doing just the opposite of what activists are intending on doing.
…click on the above link to read the rest of the article…