State-run oil company is seeking liquefied natural gas cargoes
 Water crisis curbs hydropower supplies across South America
As hydropower output declines, South America's most populous nation is turning to the super-chilled fuel to keep lights on for its 212 million people. Brazil has already imported a record number of LNG cargoes just from the U.S. this year while state-run oil company Petrobras SA is tapping the spot market for another four.
The drought comes as the nation — which boosted its ability to import LNG in 2014 to avoid blackouts during soccer's World Cup — is facing declining gas production from major supplier Bolivia. The conditions are also affecting other countries in South America, with Chile seeking to buy LNG and traders speculating Argentina could be next.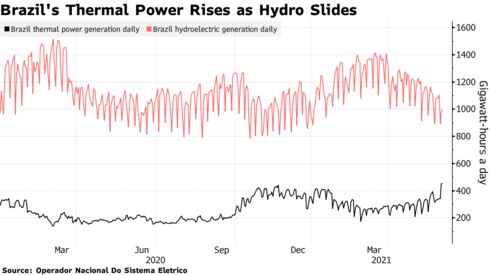 "South America is running out of hydropower because of dry weather, and I wouldn't be surprised if buyers all across the region were buying more LNG," said Henning Gloystein, global director of energy and natural resources at consultants Eurasia Group. "Besides Southeast Asia and India, South America is a growth area for gas demand."
Hydropower currently accounts for about 70% of Brazil's electricity mix, and the lack of rainfall has forced the country to import 34 U.S. LNG cargoes over the past six months to bridge the power-supply gap, shipping data compiled by Bloomberg show. That eclipses the 17 sent to Chile and four to Mexico, which has long been the top buyer of U.S. LNG in the Western Hemisphere. Brazilian imports are approaching levels typically seen only from buyers in Asia and Europe.
…click on the above link to read the rest of the article…