In a shocking retraction, the bullion bank dominated London Bullion Market Association (LBMA) has just announced that it has been overstating LBMA silver vault holdings by a massive 3,300 tonnes of silver.
This overstatement relates to the total quantity of physical silver bars that the LBMA claimed were being held in LBMA vaults in London as of end of March 2021.
These LBMA vaults in London are operated by three banks, namely the infamous JP Morgan, the equally infamous HSBC, and the maybe not so infamous ICBC Standard Bank, and three security vaulters, Brinks, Malca Amit and Loomis.
On 9 April, to much fanfare, the LBMA published updated monthly vault data for London vaulted silver bars, claiming that as of end of March 2021, total silver held in LBMA London vaults had risen by a whopping 11.04% during March from 1.125 billion ozs (34,996 tonnes) to 1.249 billion ozs (38,859 tonnes), i.e. an increase of 124 million ozs or 3863 tonnes.
LBMA even claimed that this surge in silver holdings meant that there were record stocks of silver in London, titling it's press release, 'Record Stocks of Silver in London Vaults – End March 2021':
"As at end March 2021, there was a record stock of silver held in London vaults. In total there was 38,859 tonnes of silver, representing an 11% increase on the previous month, valued at $30 billion which equates to approximately 1,259,310 silver bars."
This, it turns out, was not true.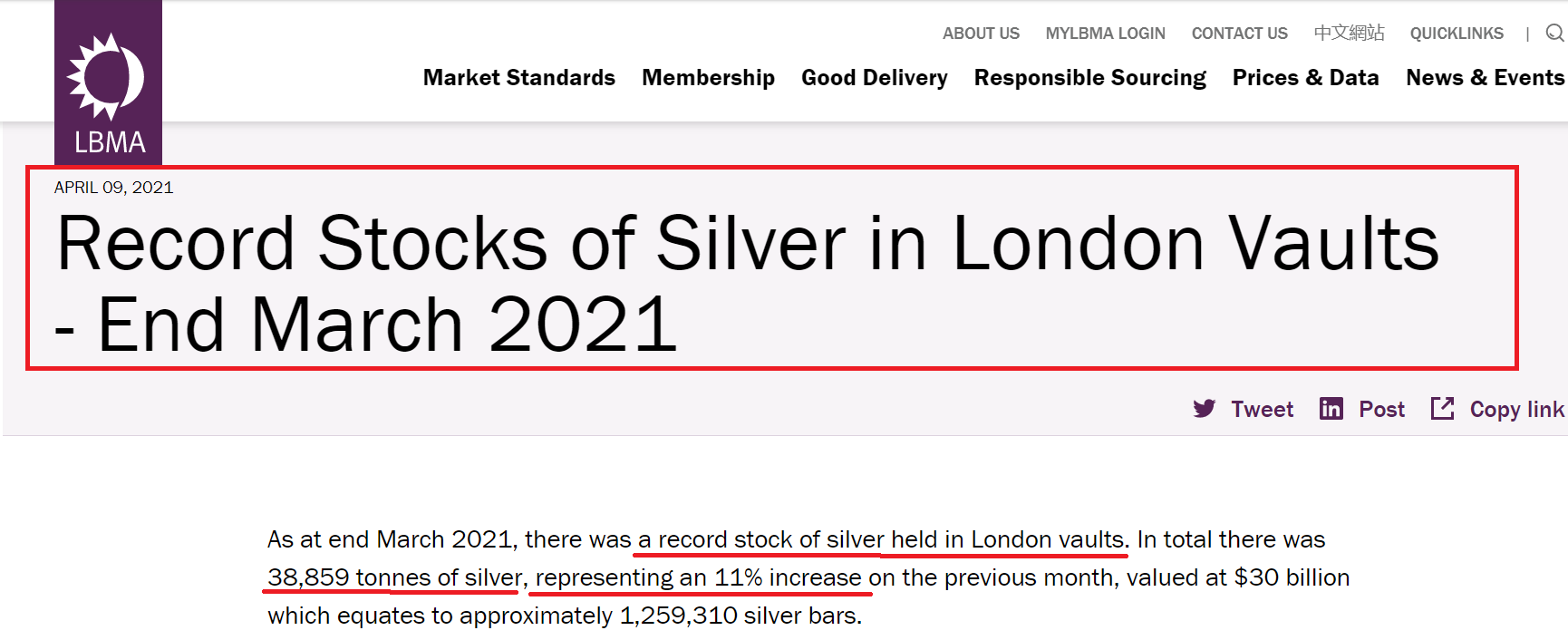 However, for an entire month the LBMA let this fiction persist, before deciding to change its claim on 10 May when it released a statement saying that:
"A data submission error led to the publication of an incorrect aggregate figure for the total silver held in London vaults in March. The corrected figure is 1,143,194 Troy ounces ('000s)."
…click on the above link to read the rest of the article…