In an investment environment where nothing matters anymore – until it suddenly does.
In the current craze that encompasses everything from sneakers and NFTs to stocks, where valuations don't matter because of widespread certainty that valuations will be even greater in a few days, and where folks are chasing lottery-type returns, supported by the Fed's interest rate repression and $3 trillion in asset purchases, and by the government's trillions of dollars of handouts and bailouts – well, in this perfect world, there is a fly in the ointment: Vast amounts of leverage, including stock market leverage.
Margin debt – the amount that individuals and institutions borrow against their stock holdings as tracked by FINRA at its member brokerage firms – is just one indication of stock market leverage. But FINRA reports it monthly. Other types of stock market leverage are not reported at all, or are disclosed only piecemeal in SEC filings by brokers and banks that lend to their clients against their portfolios, such as Securities-Based Loans (SBLs). No one knows how much total stock market leverage there is. But margin debt shows the trend.
In February, margin debt jumped by another $15 billion to $813 billion, according to FINRA. Over the past four months, margin debt has soared by $154 billion, a historic surge to historic highs. Compared to February last year, margin debt has skyrocketed by $269 billion, or by nearly 50%, for another WTF sign that the zoo has gone nuts: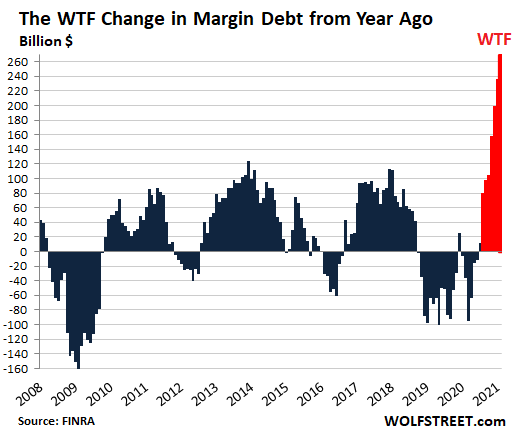 But margin debt is not cheap, especially smaller amounts. For example, Fidelity charges 8.325% on margin balances of less than $25,000 – in an environment where banks, money market accounts, and Treasury bills pay near 0%. Margin debt gets cheaper for larger balances, an encouragement to borrow more. For margin debt of $1 million or more, the interest rate at Fidelity drops to 4.0%
…click on the above link to read the rest of the article…