Neither likes the new federal Impact Assessment Act, which Alberta is challenging in court.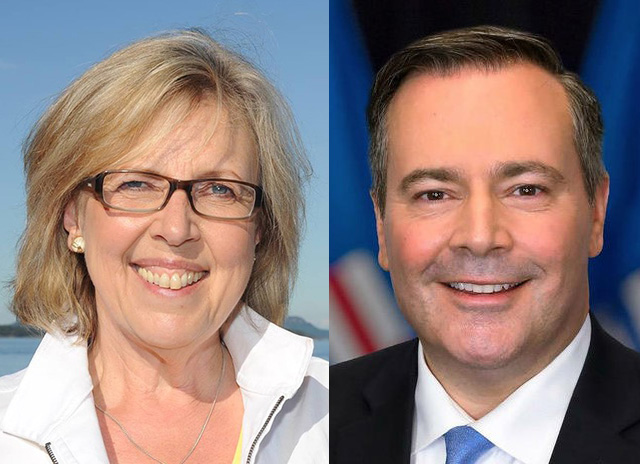 All this week, the Alberta government will be in court challenging the constitutionality of the new federal Impact Assessment Act, with the goal of preventing Ottawa from assessing the impact of coal mining projects in the eastern slopes or new oilsands in situ projects.
A host of environmental groups including Nature Canada, West Coast Environmental Law and MiningWatch Canada will also be in the Alberta Court of Appeal arguing that the act is constitutional and does not intrude on provincial jurisdiction.
But MP Elizabeth May, the former leader of the Green party and a long-time environmental lawyer, says the federal law is so badly designed, she hopes that the courts will strike it down.
"It is a very dangerous system and a joke," May told the Tyee. "I hope the Alberta government wins. It is not proper environmental assessment."
"But the motivation of the Kenney government is terrible," added May who voted against the legislation in 2019. While Premier Jason Kenney and his government "think it is an anti-pipeline bill," May said, the Liberal legislation actually "is rife with discretions for the environment minister," she said.
An environment minister in a more pro-oil industry government could use that discretion to push through pipelines, she said, which for May "is distressing."
…click on the above link to read the rest of the article…
Andrew Nikiforuk , TheTyee.ca, alberta, canada, canadian government, environmental assessment, oilsands,