Railroads responded to structural challenges by slashing jobs. Did nothing for volume but did everything for their stocks.
The North American Class 1 freight railroads – BNSF, Union Pacific, Norfolk Southern, CSX, Canadian National, Kansas City Southern, and Canadian Pacific – have been shedding employees since 2015, and in November they shed another 1.6% of their employees, from October, bringing the total down to 114,960 employees, according to data released by the Surface Transportation Board (STB), an independent federal agency. It was the lowest headcount in many, many decades.
November headcount was down by 13.7% from a year ago, down by 22% from the Great Recession low at the end of 2009 (147,000), and down by 33.5% from the recent high in April 2015 (174,000):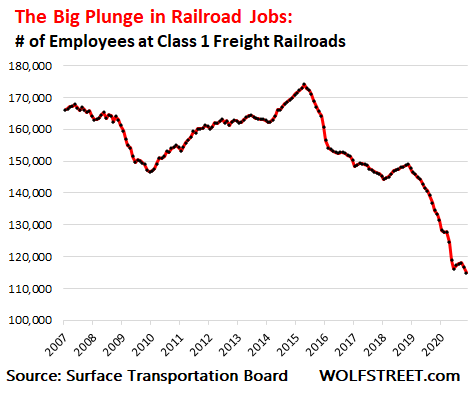 Railroads submit employment data – along with a slew of other operating data – to the STB on a monthly basis. I have excluded Amtrak (the National Railroad Passenger Corporation) because it is not a freight railroad (it too cut headcount).
Back in 1997, which is as far back as the publicly released data by the STB goes, railroads employed 178,000 people. In 1998, railroads employed 180,000. Employment in November was down by 36% from 1998. The chart below shows Class 1 railroad employment in each year in December, except for 2020, when I used November (in recent years, headcounts dropped further from November to December):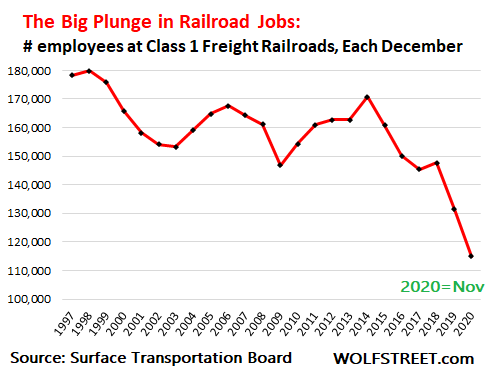 Compared to November last year, each of the Class 1 railroads shed employees, in order of the number of remaining employees:
BNSF: -15.6% (35,081)
Union Pacific: -13.4% (32,046)
Norfolk Southern: -15.9% (19,199)
CSX: -9.0% (17,093)
Canadian National: -13.2% (6,183)
Kansas City Southern: -10.1% (2,718)
Canadian Pacific: -9.4% (2,640)
Since September 2016, which is as far as the STB's monthly data by individual railroad goes back, some railroads have been busier than others shedding employees. All combined have shed 24.6% of their people. Each railroad, in order of the biggest shedders in percentage terms:
…click on the above link to read the rest of the article…