One of the curiosities about the current global financial crisis is that unlike the global financial crisis of 2008 when a massive credit injection by China sparked a generous reflationary wave around the world which pulled it out of a deflationary slump, this time around China has been far more modest as the following chart shows.

All that may be about to change.
Speaking in a financial forum in Shangha, China's central bank governor Yi Gang said that China will keep liquidity ample in the second half of the year, but it should consider in advance the timely withdrawal of policy measures aimed at countering the effects of the COVID-19 pandemic.
"The financial support during the epidemic response period is (being) phased, we should pay attention to the hangover of the policy," Yi said. "We should consider the timely withdrawal of policy tools in advance."
In other words, just like the Fed, China is pretending that whatever is coming will be temporary. Which, in a world of helicopter money will never again be the case.
But more importantly, we know that in order to boost its stagnating economy, China is about to unleash a historic credit injection: Yi said that new loans are likely to hit nearly 20 trillion yuan ($2.83 trillion) this year, up from a record 16.81 trillion yuan in 2019, and total social financing could increase by more than 30 trillion yuan ($4.2 trillion), or about 30% of GDP. A similar number for the US would be about $7 trillion which is more or less what the US deficit will be over the next 12 months.
In other words, we're going to need a much bigger chart of China's broad credit.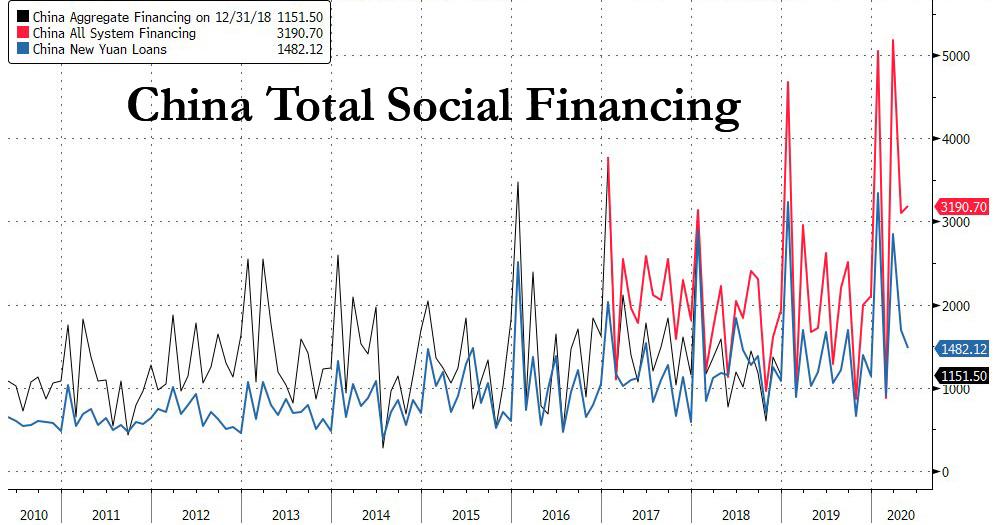 Yi added that the bank's balance sheet remains stable around 36 trillion yuan.
…click on the above link to read the rest of the article…