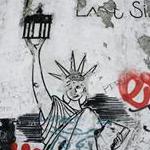 Major U.S. stock market indexes yo-yoed about all week. On Monday, panic selling from last week turned to panic buying. Decades of Fed intervention have conditioned stock market investors to step in front of semi-trucks to scoop up nickels.
The Dow Jones Industrial Average (DJIA) jumped 1,290 points. This marked its biggest-ever single day gain in terms of points. Can the economic destruction wrought by coronavirus containment really be overcome with what former New York Fed President, Benjamin Strong, once called stock market "coup de whiskey?" We doubt it.
But we are fairly confident Fed stimulus will have the offensive consequence of widening the gap between sky high asset prices and weak economic fundamentals. Fed Chairman Powell certainly understands this. Nonetheless, on Tuesday, he went forward with the dirty deed.
After an early morning teleconference with various G7 poohbahs, Powell cut the federal funds rate by 50 basis points. This took the Fed's target range to between 1 and 1.25 percent. As far as we can tell, Powell's dirty deed achieved the exact opposite of its intent.
U.S. stock market indexes didn't go up. Rather, they went down. In fact, they went down a lot. The DJIA, for example, gave back 785 points. Here's why…
The Fed's rate cut was an act of fear.  Investors smelled it out and circled like a pack of wild hyenas.  Powell may be able to expand the supply of money and credit.  But he can't make up for the economic destruction of a global economy that's grinding to a halt to stem the spread of coronavirus.  Cutting rates 50 basis points won't cut it.
"This Sucker's Going Down"
Bull markets, like myths and legends, die hard in America. By Wednesday, the bulls were back at it…bidding up share prices like 17th century tulip bulbs. The DJIA, baited by promises for fiscal stimulus, jumped 1,173 points – back above 27,000.
…click on the above link to read the rest of the article…