One week ago, ahead of today's Chinese data release which would for the first time capture the devastation from the coronavirus pandemic, we wrote that "to those who have been following our series of high-frequency, daily indicators of China's economy, it will probably not come as a surprise that the world's second biggest economy has ground to a halt, its GDP set to post the first negative print in modern history. To everyone else who is just now catching up, we have some news: it's going to be bad."
Specifically, we said that ahead of official Chinese economic data which will soon start capturing the period when the coronavirus hit the nation, Nomura's Chief China economist Ting Lu noted that China's Emerging Industries PMI (EPMI), which gauges momentum in the country's high-tech industries and is closely correlated with official manufacturing PMI, slumped to 29.9 in February (from 50.1 in January!), its lowest-print on record (introduced Jan '14), which as Nomura's Charlie McElligott writes "is pure reflection of the devastating impact of the COVID-19 outbreak."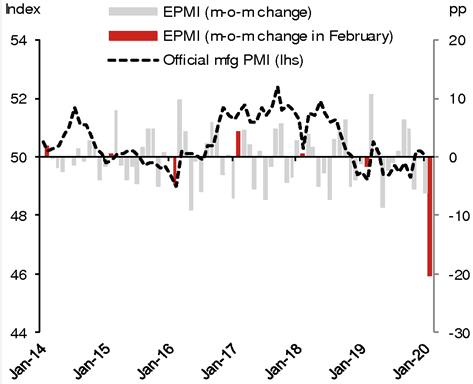 What does this mean for the closely followed China manufacturing PMI? As NOmura wrote, "even adjusting for seasonality and expected progress in business resumption in the coming week, we estimate the official manufacturing PMI could drop to a range of 30-40 in Feb."
Well, it turns out that Nomura was optimistic, because moments ago China's National Statistics Bureau reported the latest, February PMIs and they were absolutely catastrophic:
Manufacturing PMI crashes to 35.7 in Feb, sharply below the 45.0 consensus estimate, and down from 50.0 in January. A record low.
Non-Manufacturing PMI plummets to 28.9, also far below the 50.5 consensus, estimate, and down nearly 50% from the 54.1 in Jan. Also a record low.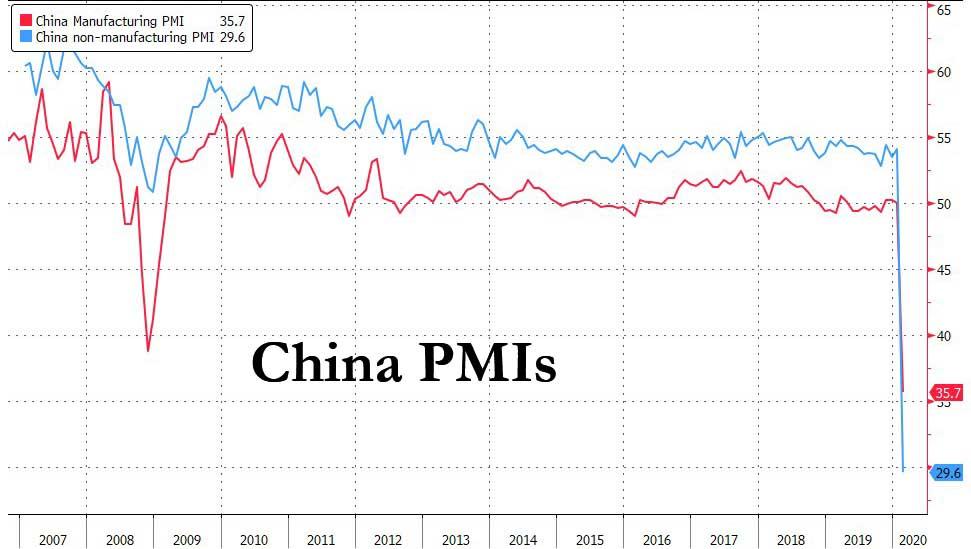 …click on the above link to read the rest of the article…