Uncertainty
Let's revisit the chart from Friday's T-Report where we examine stocks, bonds, and oil.
Oil Didn't Buy into the Bounce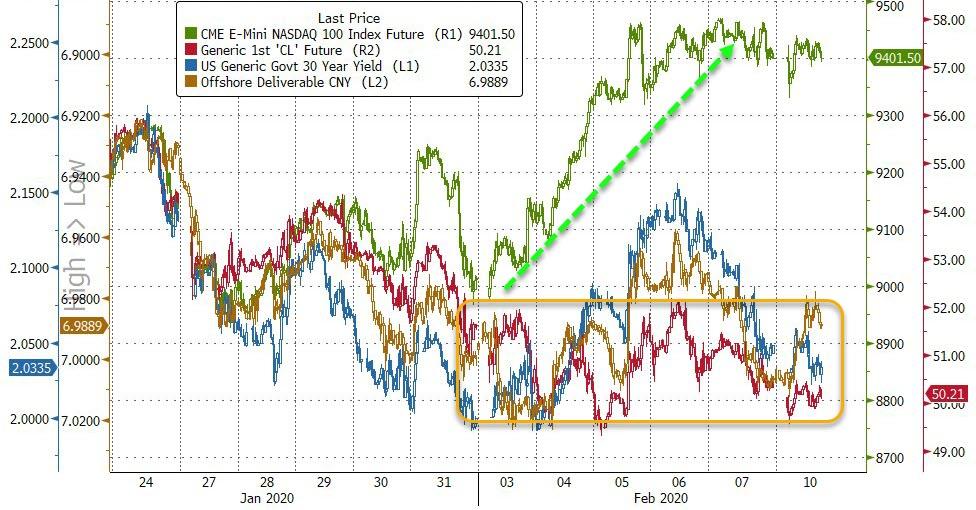 At the start of the week, stocks retraced all of their coronavirus losses, but treasuries only retraced a portion and commodities in general (oil specifically), barely budged.
With high levels of uncertainty and stocks near all time highs, the risk/reward seems skewed in favor of being prudent. There is nothing to stop stocks from making new, even greater highs but as the official death toll of the coronavirus surpasses SARS and much of China is in lockdown while the virus continues to spread globally, it is difficult to be risk-on at the moment.
On a subjective basis, it seems like Wall Street was fixated on coronavirus long before it gained mainstream attention, which might mean we haven't started to see retail's reaction to increasing media coverage of coronavirus.
Garbage In, Garbage Out – The Problem with Existing Data
Garbage In, Garbage Out (or GIGO) is an important concept that warns against taking too seriously the results of any calculation or thesis based on low quality data.
As of Sunday morning, the Johns Hopkins dashboard that I've been using states that there have been 37,592 confirmed cases with 814 deaths and 2,920 recoveries.
It is tempting to use this data as being highly accurate.  37,592 confirmed cases seems pretty accurate, as opposed to giving a range of 35,000 to 40,000 but do they really have such precise information?  I suspect that the "precision" of the counts implies a much higher degree of certainty around the numbers than there actually is.  Rather than trying to work with the data today, I'll highlight what I think the biggest risks are to using this data.
…click on the above link to read the rest of the article…