Through the ages, humans have feared uncertainty. We've searched for clues in everything from entrails to tea leaves to the arrangement of heavenly bodies in the night sky.
In the modern era, data and media are the new magic 8-ball. The jury is still out on whether we've gotten any better at anticipating the forces that will shape the coming year, but that certainly hasn't stopped people from trying.
Of the hundreds of forward-looking pieces of content published in the lead-up to 2020, how many of the expert predictions lined up? Was there a consensus on any particular trend, or were predictions all over the map?
During the month of December, Visual Capitalist's Nick Routley analyzed over 100 articles, whitepapers, and interviews to answer that question. While there was no firm consensus on where 2020 will take us, there were a few themes that appeared in multiple publications. Today's graphic highlights these reappearing predictions, and below, we examine seven of them in more detail.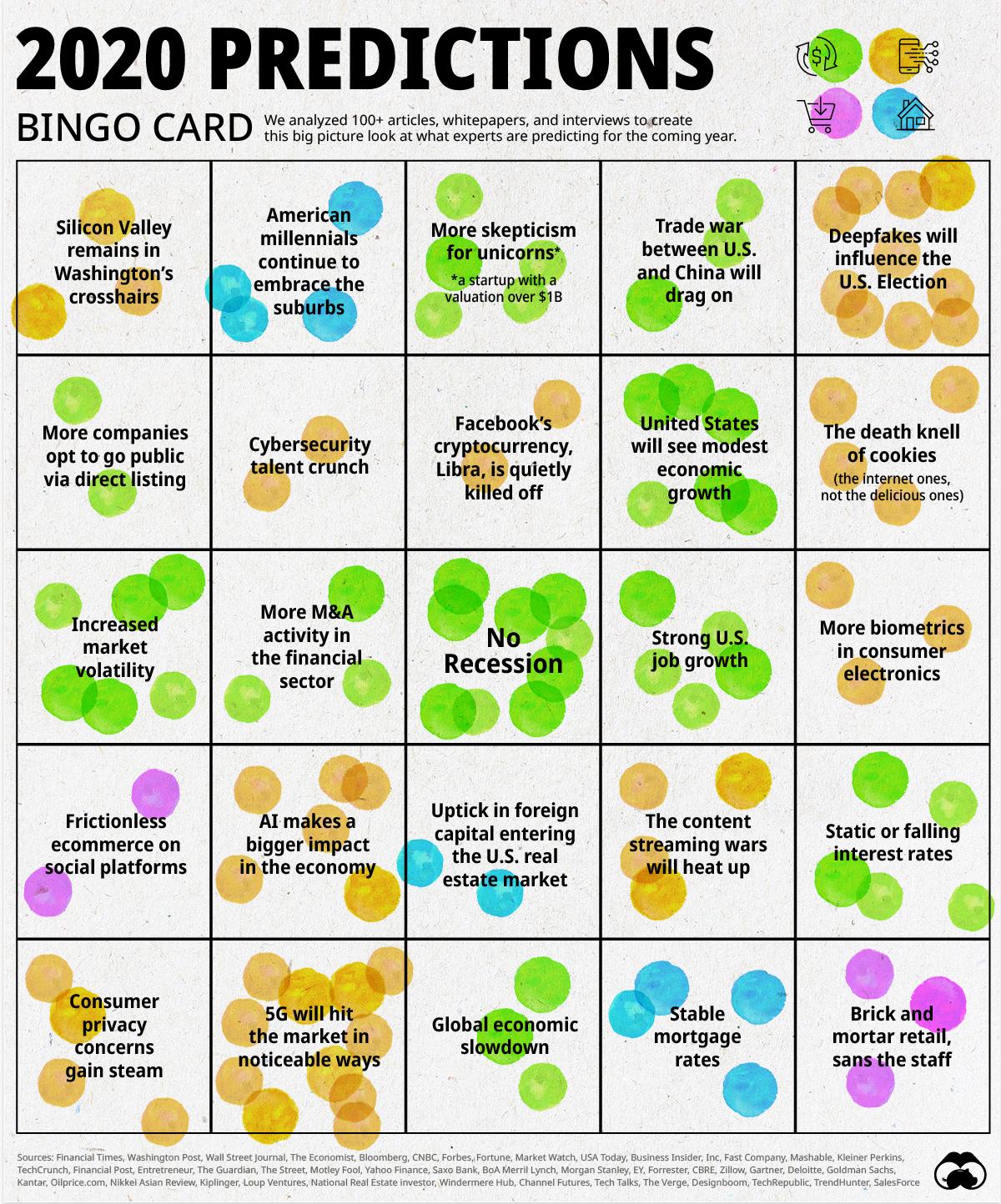 The Promise and Controversy of 5G
One technology that's sure to capture the headlines in 2020 is 5G. Broadband speeds of over one gigabit per second will become a reality when 5G technology rolls out across the country, without the cable that currently connects most homes. This prediction is a slam dunk, as some carriers are already testing the technology in select neighborhoods around the United States.
Experts also predict that a wave of 5G-enabled smartphone and IoT products will become commercially available in 2020.
The wild card in this 5G story will be guessing which companies end up building out the new network. Huawei was in a strong position to lead the charge, but the company has been stonewalled in a number countries – most notably the United States, Australia, and Japan. Whether due to national security concerns or protectionism, Chinese companies may continue to face an uphill battle in Western markets.
…click on the above link to read the rest of the article…