French labor unions won't be giving any presents to citizens who want to travel by train this Christmas.
That's because strikes by transport workers against the government's pension-reform plan have shut down half of national train services this weekend, with 59% of services expected to be cut on December 23-24, according to Bloomberg.
French railway company, SNCF, has suspended its unaccompanied minor service, canceling about 6,000 tickets for children this week. Four out of five trains were also suspended in the greater Paris area and the capital's metro system also stopped, with the exception of two automated lines.
French President Emmanuel Macron urged the unions to come to a truce for the holiday week at the same time public support for the strike during the holiday had fallen to 51%. This is down from 63% just five days prior. However, a poll on Thursday showed 55% of respondents thought the labor unions were "wrong" to strike during the holiday period. 
Macron commented: "Strikes are protected by the constitution. But there are times in a nation's history when it's also good to know when to call a truce to respect families and family life."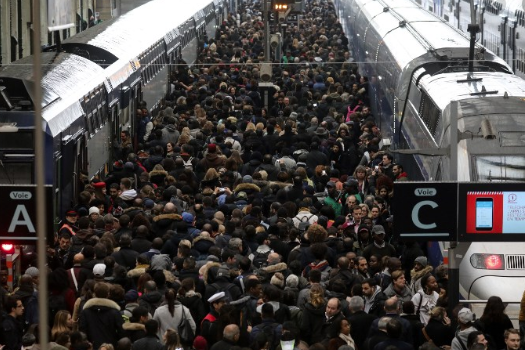 Some unions are calling for truces, others aren't. And the strikes seem to be having an impact. Polls show 57% of people reject Macron's pension reform, which is higher than when the protests started on December 5. Some unions have called for a new day of demonstrations on January 9.
Macron's administration has had better success with tax and labor laws, but the French people are "wedded to their pension system", making reform a difficult task. Macron aims to merge 42 separate regimes into a single, universal points-based system. The plan also seeks to raise the age for full benefits from 62 to 64.