Home » Posts tagged 'union strike'
Tag Archives:
union strike
The European energy crunch is set to worsen this week after Norwegian offshore oil and gas workers went on strike, threatening to sever the Scandinavian country's energy supplies to the UK and Europe, according to Reuters.
As much as 1,117,000 barrels of oil equivalent, or 56% of daily natural gas exports, while 341,000 barrels of oil would be lost by Saturday if strikes continue closing down fields, the Norwegian Oil and Gas (NOG) employer's lobby warned.
"The strike has begun," Audun Ingvartsen, the leader of Norway's oil workers' union, Lederne, said in an interview. He added the strike would escalate as workers pressure oil/gas companies to increase wages and benefits amid the worse inflation in Europe in decades.
Norway is Europe's second-largest energy supplier after Russia. The timing of strikes comes as European countries rush to inject NatGas supplies into storage ahead of the winter, and Russian energy giant Gazprom significantly reduced Nord Stream flows to Europe. Gazprom plans to halt Nord Stream flows for routine maintenance from July 11 for ten days.
Norway's Gassco, a state-owned pipeline operator, explained to Financial Times, "in a worst-case scenario, deliveries to the UK could stop totally." 
"The UK has also become a key conduit for moving supplies on to Europe over the summer, with its export pipelines to Belgium and the Netherlands running at speed to send excess imports of liquefied natural gas and Norwegian supplies into continental storage ahead of the winter," FT said.
News of the strikes sent British wholesale NatGas price for day-ahead delivery up 16%.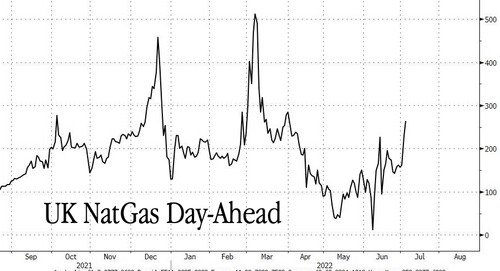 Strikes began on Monday and knocked offline 89,000 barrels of oil equivalent a day of production at three fields on Norway's continental shelf. Three more fields could be closed by Wednesday, affecting even more production. If the labor union and energy companies don't come to a resolution on wages, a total of 14 sites could be offline by Saturday, representing a 56% reduction in NatGas exports.
…click on the above link to read the rest of the article…
French labor unions won't be giving any presents to citizens who want to travel by train this Christmas.
That's because strikes by transport workers against the government's pension-reform plan have shut down half of national train services this weekend, with 59% of services expected to be cut on December 23-24, according to Bloomberg.
French railway company, SNCF, has suspended its unaccompanied minor service, canceling about 6,000 tickets for children this week. Four out of five trains were also suspended in the greater Paris area and the capital's metro system also stopped, with the exception of two automated lines.
French President Emmanuel Macron urged the unions to come to a truce for the holiday week at the same time public support for the strike during the holiday had fallen to 51%. This is down from 63% just five days prior. However, a poll on Thursday showed 55% of respondents thought the labor unions were "wrong" to strike during the holiday period. 
Macron commented: "Strikes are protected by the constitution. But there are times in a nation's history when it's also good to know when to call a truce to respect families and family life."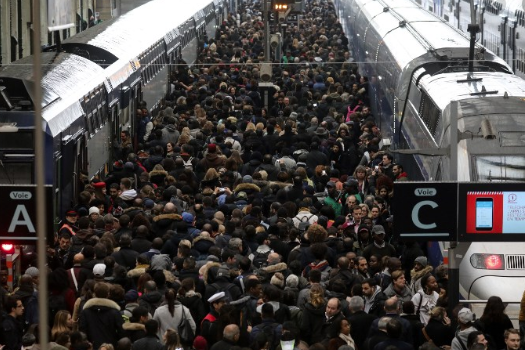 Some unions are calling for truces, others aren't. And the strikes seem to be having an impact. Polls show 57% of people reject Macron's pension reform, which is higher than when the protests started on December 5. Some unions have called for a new day of demonstrations on January 9.
Macron's administration has had better success with tax and labor laws, but the French people are "wedded to their pension system", making reform a difficult task. Macron aims to merge 42 separate regimes into a single, universal points-based system. The plan also seeks to raise the age for full benefits from 62 to 64.