---

The Fed's balance sheet is expanding at a faster rate than during QE1, QE2 or QE3.
---
* * *
Submitted by Howard Wang of Convoy Investments
Has QE4 begun? The $1.2 trillion per month hole in the repo market.
In the two months since the repo market blow up, the Fed has been making repo open market operation purchases at a rate of $1.2 trillion per month.
Below is the monthly rate of Fed open market purchases since 2000. In the era of QE and ample reserves, the Fed has not touched open market operations for more than 10 years before 2019. Prior to that, the highest rate of open market operations we saw in history was roughly $300 billion/month briefly after the September 11 attacks, with long‐term averages of around $50 billion/month. To say the current rate of $1.2 trillion/month is unprecedented would be an understatement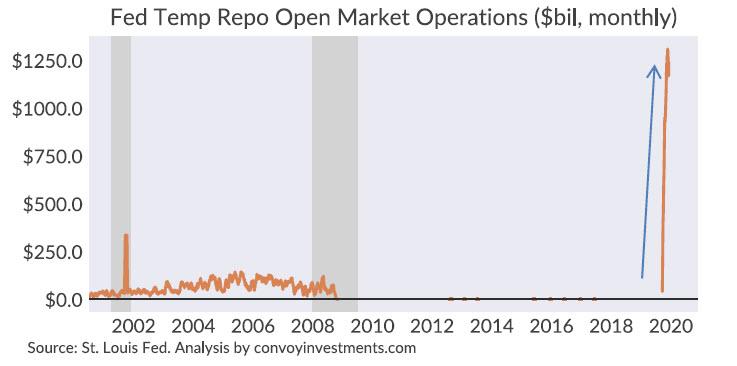 The planned QE unwinding has hit a brick wall and the Fed balance sheet is now expanding at a rate matched only briefly by QE1, and faster than QE2 or QE3.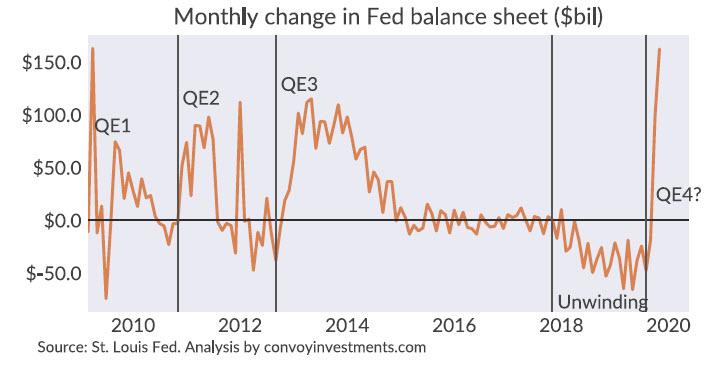 Is this a temporary rescue of the repo market or the start of a sustained QE4? To answer that question, we must look at how monetary policy has evolved since the Financial Crisis.
1. Pre‐2008, scarce reserves regime:
Total reserves: small (<$50 billion)
Excess reserves: none
Interest on excess reserves: 0%
Managing interest rates: to increase rates, Fed sells securities on the open market and reduces supply of reserves, vice versa to decrease rates.
Banks: regulations are lax and risk tolerance is high
Treasury department: carefully manages its cash flows to not impact the total reserve levels.
2. 2008‐2019, ample reserves regime:
Total reserves: large ($trillions)
Excess reserves: large ($trillions)
Interest on excess reserves: positive at around Fed funds rate
…click on the above link to read the rest of the article…