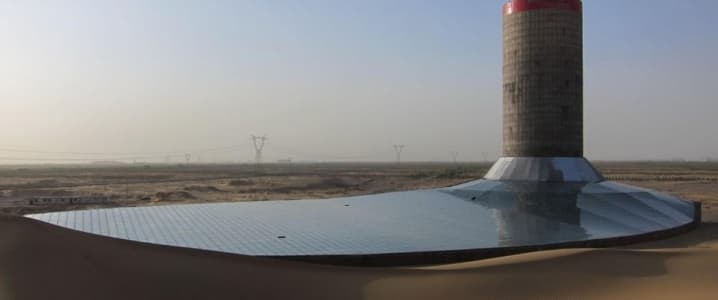 More than thirty years ago a giant tower was built in Manzanares, Spain, to produce electricity in a way that at the time must have seen even more eccentric than it seems now, by harnessing the power of air movement. The Manzanares tower was, sadly, toppled by a storm. Decades ago, several other firms tried to replicate the idea, but none has succeeded. Why?
A simple idea
The idea behind the so-called solar wind towers is pretty straightforward. The more popular version is the solar updraft tower, which works as follows:
On the ground, around the hollow tower, there is a solar energy collector—a transparent surface suspended a little above ground—which heats the air underneath.
As the air heats up, it is drawn into the tower, also called a solar chimney, since hot air is lighter than cold air. It enters the tower and moves up it to escape through the top. In the process, it activates a number of wind turbines located around the base of the tower. The main benefit over other renewable technologies? Doing away with the intermittency of PV solar, since the air beneath the collector could stay hot even when the sun is not shining.
A more recent take on solar wind towers involved water as well. Dubbed the Solar Wind Downdraft Tower, this project first made headlines in 2014, but since then there have been few updates, and those have been far between. The latest was from last year, when the company behind it, Solar Wind Energy Tower, announced a letter of intent by an investment company to provide financing for the project. That financing was to come from investors that the company was yet to find.
…click on the above link to read the rest of the article…