Today, we live in a low-interest-rate environment, where the cost of borrowing for governments and institutions is lower than the historical average. It is easy to see that interest rates are at generational lows, but, as Visual Capitalist's Nicholas LePan notes below, did you know that they are also at 670-year lows?
This week's chart outlines the interest rates attached to loans dating back to the 1350s. Take a look at the diminishing history of the cost of debt—money has never been cheaper for governments to borrow than it is today.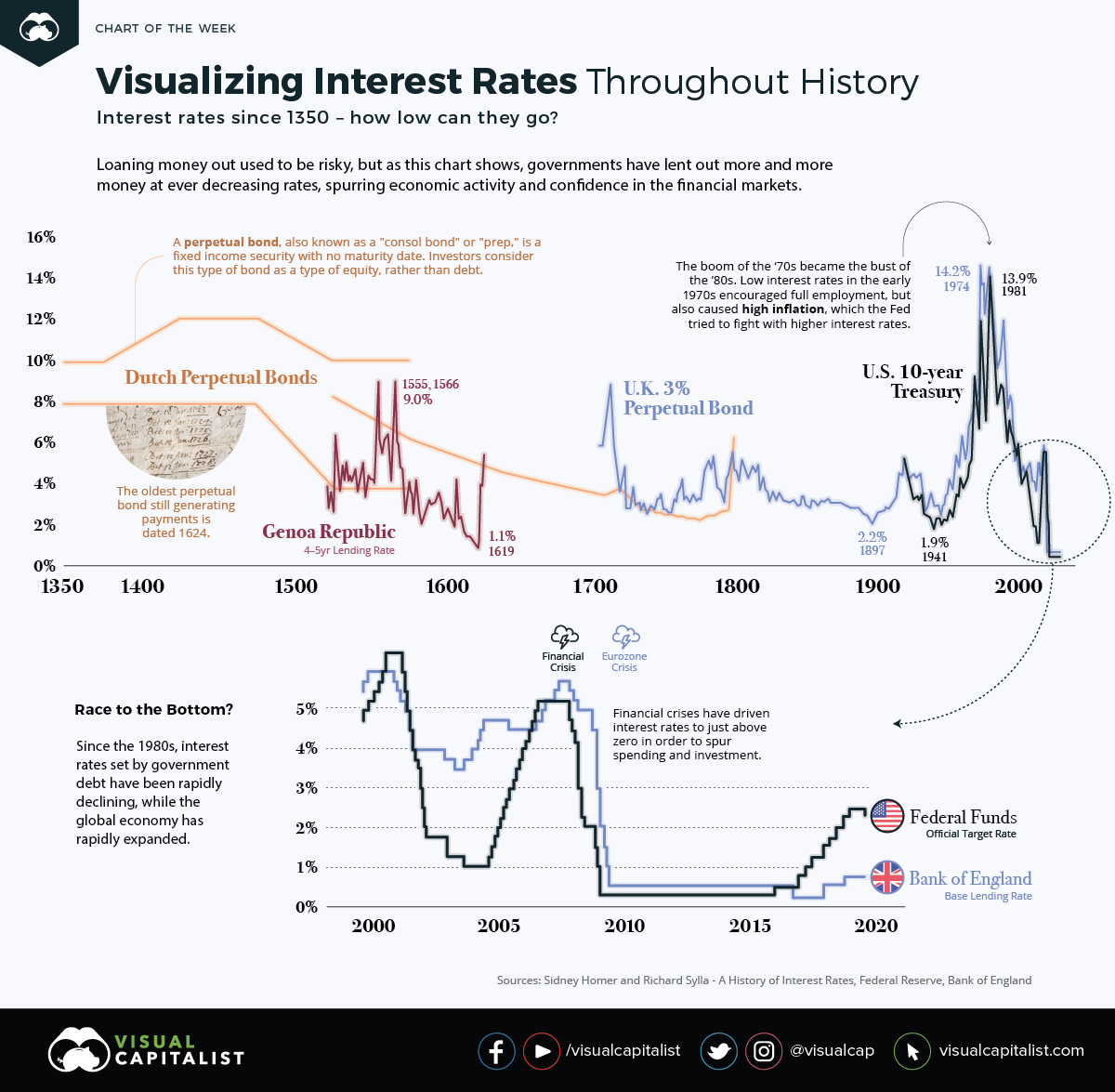 The Birth of an Investing Class
Trade brought many good ideas to Europe, while helping spur the Renaissance and the development of the money economy.
Key European ports and trading nations, such as the Republic of Genoa or the Netherlands during the Renaissance period, help provide a good indication of the cost of borrowing in the early history of interest rates.
The Republic of Genoa: 4-5 year Lending Rate
Genoa became a junior associate of the Spanish Empire, with Genovese bankers financing many of the Spanish crown's foreign endeavors.
Genovese bankers provided the Spanish royal family with credit and regular income. The Spanish crown also converted unreliable shipments of New World silver into capital for further ventures through bankers in Genoa.
Dutch Perpetual Bonds
A perpetual bond is a bond with no maturity date. Investors can treat this type of bond as an equity, not as debt. Issuers pay a coupon on perpetual bonds forever, and do not have to redeem the principal—much like the dividend from a blue-chip company.
By 1640, there was so much confidence in Holland's public debt, that it made the refinancing of outstanding debt with a much lower interest rate of 5% possible.
Dutch provincial and municipal borrowers issued three types of debt:
…click on the above link to read the rest of the article…