Over the weekend, we observed that China's slumping wholesale inflation, or PPI, which is so critical for corporate profits and sparking benign, demand-driven inflation in the economy, and which in October tumbled to a three year low assuring that Chinese dumping and exports of deflation will only further depress global reflation efforts…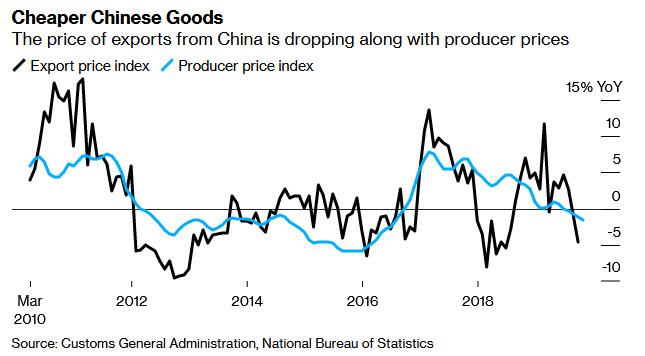 … will not reverse until Beijing injects another elephant-dose of credit into the Chinese financial system.
Just 48 hours later we can confirm that there is zero risk of either a sharp spike in Chinese inflation, or of China flooding the financial system with cheap credit – as it has been known to do during key economic inflection points – because according to the PBOC, China's credit growth slowed far more than expected in October to the weakest pace since at least 2017 as a continued collapse in shadow banking, weak corporate demand for credit and seasonal effects all signaled that efforts to prop up the economy through bank lending still aren't working.
The central bank reported that Aggregate Financing, China's revised version of the old Total Social Financing, was a paltry 618.9 billion yuan ($88 billion), missing the median conservative estimate of 950 billion yuan, and down a whopping 72% from the 2.27 trillion yuan in September and 737.4 billion yuan in the same month of 2018. Today's print was the lowest in the revised series history which goes back to the start of 2017, and only a slightly lower print in the old series prevents today's total credit injection from being the lowest since 2016!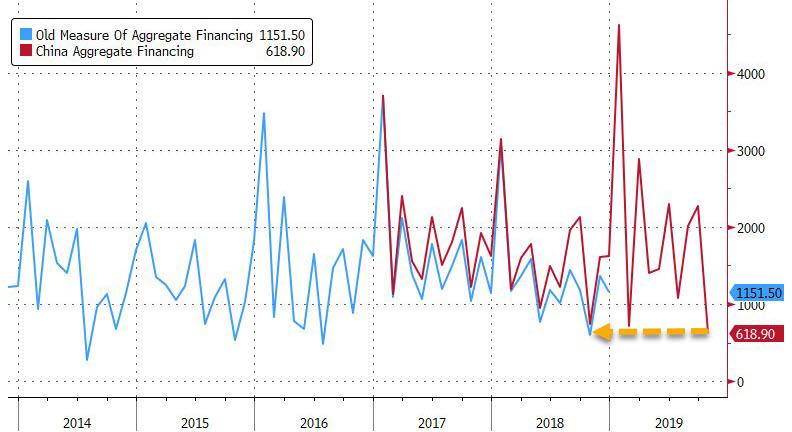 New CNY loans of 661.3 billion yuan also missed the consensus print of 800 billion yuan, resulting in outstanding CNY loan growth of 11.9% annualized in October, well below the September 13.3% annualized print. As has been the case recently, two thirds of yuan-denominated bank loans were borrowed by households in the month, while the borrowing by non-financial companies was the least in amount since August 2016.
…click on the above link to read the rest of the article…