As the violence in Hong Kong escalates with every passing week, culminating on Friday with what was effectively the passage of martial law when the local government banned the wearing of masks at public assemblies, a colonial-era law that is meant to give the authorities a green light to finally crack down on protesters at will, one aspect of Hong Kong life seemed to be surprisingly stable: no, not the local economy, as HK retail sales just suffered their biggest drop on record as the continuing violent protests halt most if not all commerce: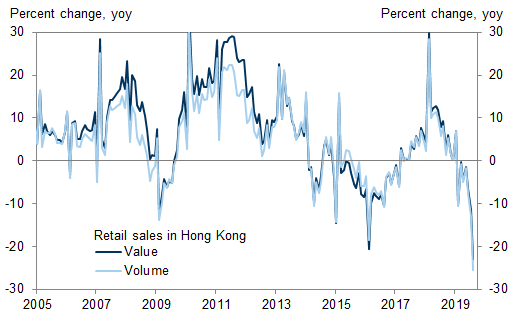 We are talking about the local banks, which have been remarkably resilient in the face of the continued mass protests and the ever rising threat of violent Chinese retaliation which could destroy Hong Kong's status as the financial capital of the Pacific Rim in a heart beat, and crush the local banking system. In short: despite the perfect conditions for a bank run, the locals continued to behave as if they had not a care in the world.
Only that is now changing, because one day after a junior JPMorgan banker was beaten in broad daylight by the protest mob, a SCMP report confirms that the social upheaval has finally spilled over into the financial world: according to the HK publication, the local central bank, the Hong Kong Monetary Authority, was forced to issue a statement warning against a "malicious attempt to cause panic among the public" after rumors were spread online about the possibility of the government using emergency powers to impose foreign-exchange controls.
…click on the above link to read the rest of the article…