But what happens if there's actually a recession?
The US gross national debt jumped by $110 billion on the last two business days of Fiscal Year 2019, and by a breath-taking $1.2 trillion during the entire fiscal year, after having already jumped by $1.27 trillion in Fiscal 2018, the Treasury Department reported today. This ballooned the US gross national debt to a vertigo-inducing $22.72 trillion.
These beautiful trillions whipping by are a joy to behold: so much action in so little time. The flat spots in the chart below are the results of the debt-ceiling charade in Congress. When the debt ceiling is lifted, the debt spikes back to trend, and nothing changed: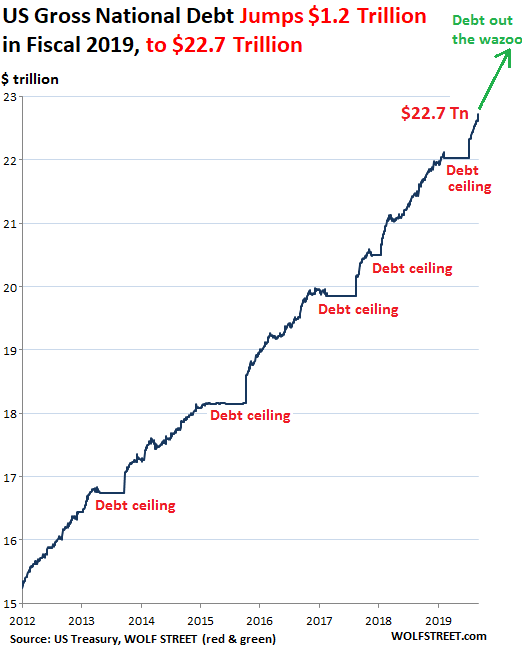 During Fiscal 2019, the gross national debt increased by 5.6% and now amounts to 106.5% of current-dollar GDP, up from 105.4% at the end of Fiscal 2018.
The thing to remember here is that this isn't the Great Recession or the Financial Crisis, when over 10 million people lost their jobs and credit froze up and companies went bankrupt and tax revenues plunged while outlays soared to pay for unemployment insurance and the like. This isn't even the Collapse of Everything, but the longest expansion of the economy in US history.
Over the last four quarters, the US economy as measured by nominal GDP (not adjusted for inflation) grew by 4.0%. Over the same period, the US gross national debt grew by 5.6% (not adjusted for inflation).
In dollar terms, it looks even funnier: The economy as measured by nominal GDP over the past four quarters grew by $830 billion. The Gross National Debt grew by $1.2 trillion.
…click on the above link to read the rest of the article…