With traders in a state of near-frenzy, with a subset of fintwit scrambling (and failing) to calculate what the limit move in oil would be (hint: there is none for Brent), moments ago brent reopened for trading in the aftermath of Saturday's attack on the "world's most important oil processing plant", and exploded some 20% higher, to a high of $71.95 from the Friday $60.22 close, its biggest jump since futures started trading in 1988.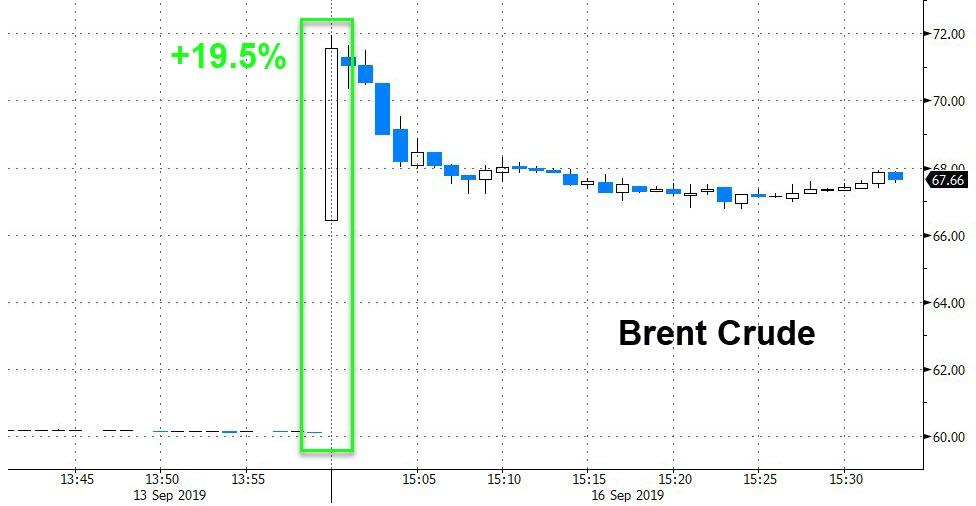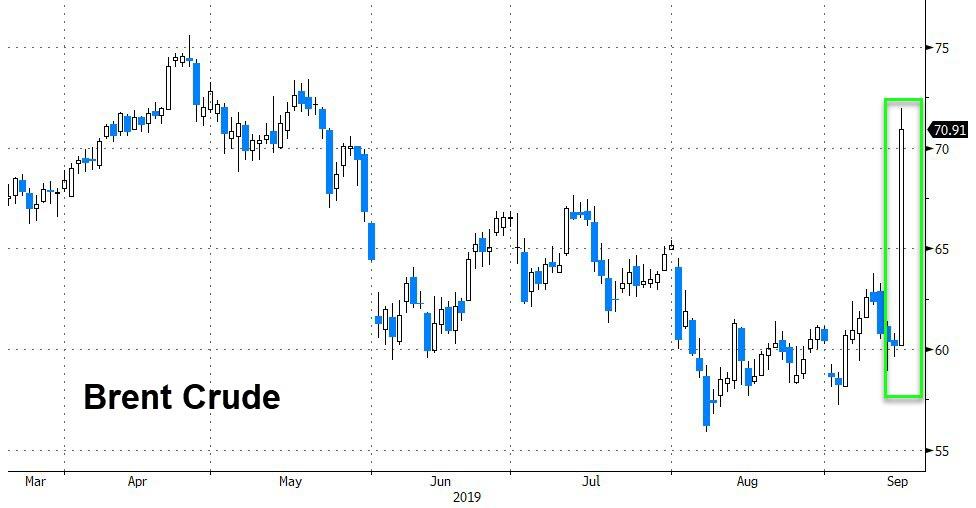 As Bloomberg notes, "for oil markets, it's the single worst sudden disruption ever, surpassing the loss of Kuwaiti and Iraqi petroleum supply in August 1990, when Saddam Hussein invaded his neighbor. It also exceeds the loss of Iranian oil output in 1979 during the Islamic Revolution, according to data from the U.S. Department of Energy."
Furthermore, in light of news that the Saudi outage could last for months, this could be just the start. As a reminder, according to Morningstar research director, Sandy Fielden, "Brent could go to $80 tomorrow, while WTI could go to $75… But that would depend on Aramco's 48-hour update. The supply problem won't be clear right away since the Saudis can still deliver from inventory."
Of course, should Aramco confirm that the outage – which has taken some 5.7mmb/d in Saudi output after 10 drones struck the world's biggest crude-processing facility in Abqaiq and the kingdom's second-biggest oil field in Khurais – will last for weeks, expect the crude juggernaut to continue until the price hits $80, and keeps moving higher.
Finally, here is the price summary from Goldman commodity strategist Damien Courvalin, who earlier today laid out four possible shutdown scenarios, and the price oil could hit for each: