The US is escalating the intensity of its military drills in the waters around mainland China. According to the South China Morning Post, US marines recently held airfield and island-seizure drills in the East and South China seas in order to remind Beijing of "US military supremacy" the Pacific – and of a treaty that the US has with Taiwan, the 'wayward' province that President Xi Jinping has vowed to 're-unify' with the rest of the country, by force, if necessary.
The 11-day-long naval drills were carried out around the Philippines and the Japanese island of Okinawa (not far from Taiwan) by the Okinawa-based US marine expeditionary units.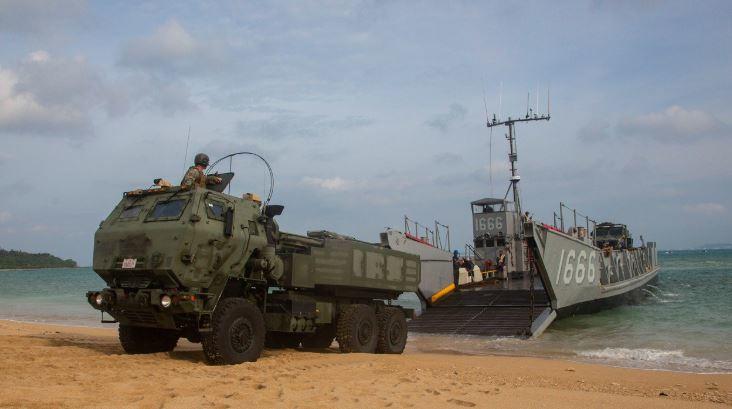 The 31st Marine Expeditionary Unit said the exercises were intended as a 'warning' to Beijing: That Washington could carry out amphibious campaigns far from home if Washington ever needed to, say, intervene in "territorial disputes between China and America's allies in the region." Most of the activity took place in the Philippines and East China Seas, and around an American naval base in Japan.
The drills were also intended "to remind Beijing of America's military edge" at a time when the Communist Party is dramatically increasing its military budget in an arms race with the US.
The team performed "reconnaissance" and "surveillance" missions, but they also practiced landing a team of troops to "establish a refueling point" from a massive troop-carrying aircraft.
The unit's Amphibious Reconnaissance Platoon also performed a reconnaissance and surveillance mission through a high-altitude, low-opening parachute jump onto Okinawa.

A tilt-rotor aircraft, which hovers like a helicopter but flies like an aeroplane, afterward sent a landing team from a Wasp ship more than 400km (250 miles) away to establish the arming and refuelling point. The team achieved its objective in just over one hour, the statement said.
…click on the above link to read the rest of the article…