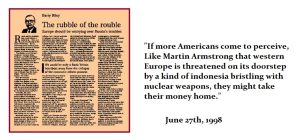 QUESTION: Mr. Armstrong; I did my own research on the 1998 Russian collapse. All the big names lost billions. Even the New York Times reported that George Soros lost $2 billion. You were the only one who made money so it made sense that you were named hedge fund manager of the year in 1998. My question is this. Since all the big names were involved in the Russia trade which took down Long-Term Capital Management, is this why you call them the "club" for they all do seem to be involved in the same trade?
DU
ANSWER: Correct. This is also why they try to prevent people from listening to me. They are convinced that the reason they lost was that I was too influential and had too many institutions listening to me. That absurdity is what they ran to the government with, so I was then accused of "manipulating" the world economy. They all lost after I warned them and refused to join in their takeover of Russia I believe I was given the nod by the Clintons. They told me they had the IMF in their back pocket and they would continue to fund Russia. I warned them that the IMF got their funding from governments and they were not going to back it.
The Russian financial crisis hit Russia on the 17th of August 1998. Our World Economic Conference was held in London that June. Our forecast was then published by the London Financial Times on the front page of the second section.
They did not give up. After they got the Federal Reserve to bail them out, they then focused on setting up Yeltsin and got him to divert $7 billion in IMF loans. Even CNN reported the money was stolen from the IMF.
CNN Theft of IMF Money – Sep. 1, 1999
…click on the above link to read the rest of the article…