As had been widely previewed in China's official financial press in recent days, on Friday the PBOC announced it would cut the required reserve ratio (RRR) for all banks by 0.5% effective Sept. 16 (and by 1% for some city commercial banks, to take effect in two steps on Oct. 15 and Nov. 15), releasing 900 billion yuan ($126 billion) of liquidity, helping to offset the tightening impact of upcoming tax payments.
While today's rate cut was more than the previous cuts in January and May, which released 800 billion yuan and 280 billion yuan, respectively, the PBOC stated that "China won't adopt flood-like monetary stimulus" and that they will continue "prudent" monetary policy to "keep liquidity at (a) reasonably ample level" and will "strengthen the counter-cyclical adjustment" which is basically gibberish for it will do whatever it sees appropriate.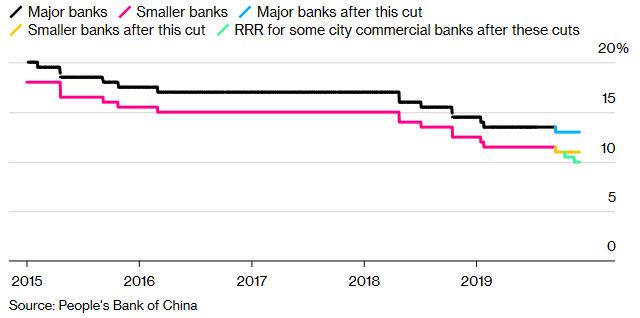 With the Chinese economy slowing drastically in recent months, with various economic indicators at multi-decade lows, the RRR cut was aimed at supporting demand by funneling credit to small firms and echoes the earlier cuts this year. Indeed, as Bloomberg notes, China's economy softened substantially in August after poor results in July, and will likely deteriorate further in the remainder of the year. Trade tension between China and the U.S. expanded onto the financial front recently after China allowed the currency to decline below 7 a dollar, prompting the U.S. to name it a currency manipulator.
Anticipating cries of foul play from Trump's twitter account which is just minutes away from unleashing hell at the Fed for not doing what China is doing, the cut "doesn't reflect an aggressive easing," said Commerzbank economist Zhou Hao. "In fact, China has recently massively tightened property financing. Hence this is still a re-balancing – to lower the funding costs for the manufacturing sector but tighten liquidity in the property sector due to asset bubble concerns."
…click on the above link to read the rest of the article…